AutoRent Hertz Hitop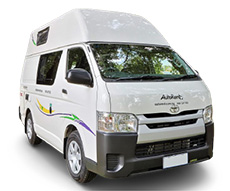 Floorplans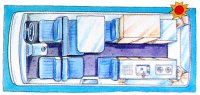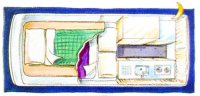 Image Gallery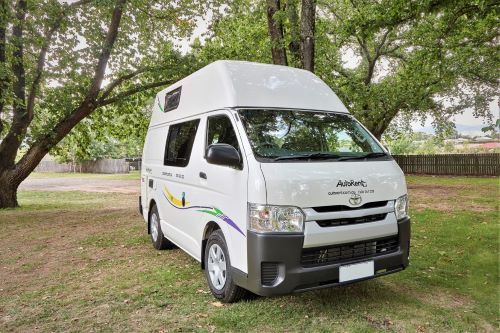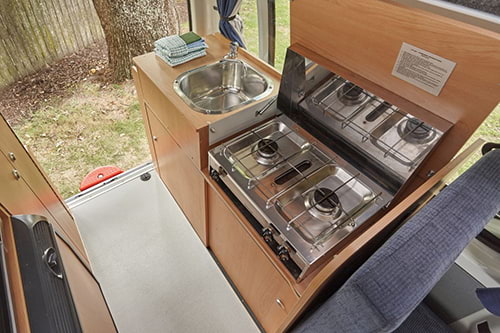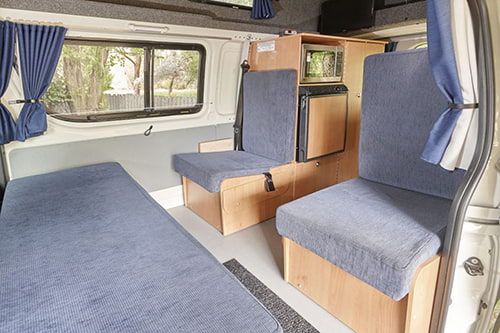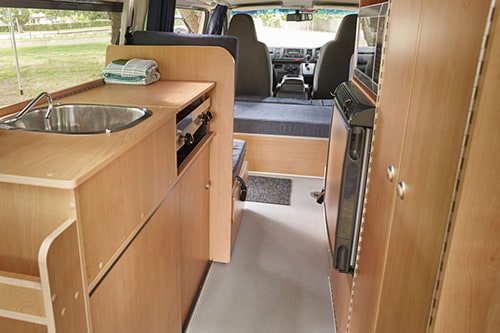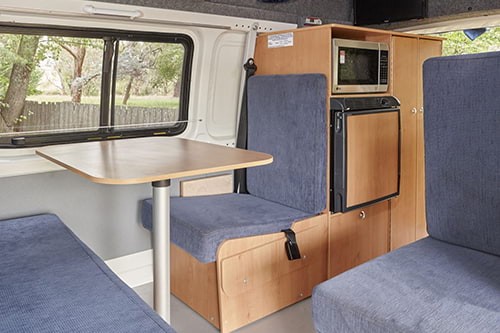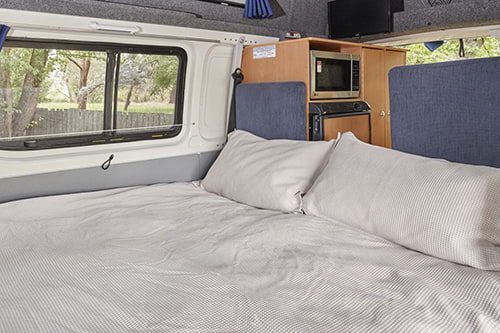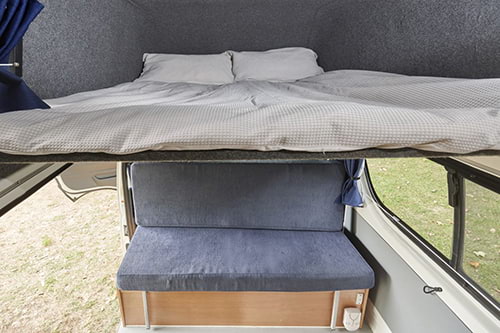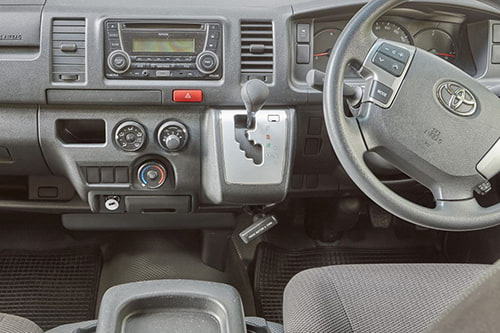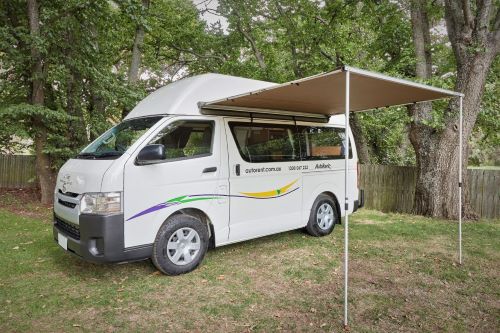 Vehicle Details
Vehicle
Vehicle Age
2014 - 2018
Air Conditioning
Yes (in Drivers Cabin)
Seating
Maximum Passengers
Best Suited 2 Adults 2 Children or 3 Adults
Seatbelts
2 in Drivers Cabin 2 in Rear
Child Restraints
Total Child Restraints Permitted - 1


Rear Facing

Maximum 1


Forward Facing

Maximum 1


Booster

Maximum 1
Internal Access
No
Living Area
Crockery Cutlery Pots Pans Supplied
Yes
Fire Extinguisher
Yes
Fridge & Freezer
Yes
Fly Screens
Yes
Gas Cooker
Yes
Gas Bottles
1 x 3kg
Hot & Cold Water Supply
Cold Only
Linen Supplied
yes
Microwave
Yes (requires 240v)
Reverse Cycle Air Conditioner
No, (Heater Supplied requires 240v)
Sink
Yes
Sleeping Configuration
1 x Double Bed (1.85m x 1.44m)
1 x Roof Double Bed (1.90m x 1.44) max weight 80kg
Shower and Toilet
No
Awning
Can Be Hired
Entertainment
Audio System
Radio & CD player
TV - DVD
TV Only
Vehicle Specifications
Dual Battery
Yes
Engine Specifications
2.4 Litre Petrol
Fuel
Petrol, 70 Litre Fuel Capacity
Fuel Consumption
Approximately 11 litres per 100 km
Make of Vehicle
Toyota
Power Equipment
Power Steering
Power Supply
12v | 240v & Solar
Transmission
Automatic
Water Tank Capacity
50 Litres
Waste Water Tank Capacity
n/a
Vehicle Dimensions
Height
2.55m
Length
5.00m
Width
1.69m
Headroom
1.84m
Disclaimer:
Actual vehicles may vary according to year of manufacture & availablility, but vehicle will be suitable for required number of people and have similar specifications to those on this website. Specific specifications cannot be requested. Measurements are approximate, not guaranteed and specifications may change at any time without any prior notice.
37 Reviews for AutoRent Hertz Hitop recently
Rebecca Prentis
12 May 2019
Vehicle was great to get around in, and came with everything we needed except the food. Very impressed!
jennifer moore
04 May 2019
The vehicle was very new and everything was in great condition. A little more time showing us the ropes on the part of the rental firm would have prevented later problems such as how to open the top windows, shifting between manual and automatic operation, unlocking the petrol cap, putting up the awning etc., but these were minor issues. The equipment was generally very complete, but a bbq scraper/cleaner, a second doormat for the rear and a plastic bowl for carrying dishes to and from camp kitchens would be very welcome additions. Overall a highly positive experience.
great vehicle very economical on fuel and a pleasure to drive
Paul Podgornik
03 April 2019
Took a while to sort out the bed. Last time we camper vanned in Tasmania was 35 years ago in our own VW Kombi. Many improvements since then.
john oreilly
24 March 2019
Very easy to drive and park. It was great having the fridge working on its own battery. The GPS needed instructions to use but we brought our own. The van is well stocked with everything we could need.
Gonni Runia
23 March 2019
We did have trouble opening the back door from inside the van.
Kevin John McKay
23 March 2019
Drove well, very comfortable, ample supplies, very good bedding nice and warm, lots of head space when standing and easy park.
Bayard Atkinson
17 March 2019
The vehicle was clean and mechanically sound
Judith Young
23 February 2019
Almost brand new, clean, tidy, loved the annexe and the camp table and chairs. Had everything we needed
Wendy Terry
09 February 2019
Great campervan. Was so easy to drive and fantastic on fuel. Had no problems with anything.
Benn Pinkerton
03 February 2019
Great no frills vehicle with all the necessary items to have a great holiday. A bit squishy for a family of 4 but would be good for 2 adults and 1 child or just 2 adults. Alumium cups and plates would have been better then glass ones. Fridge was a bit loud and had to be turned off at night. Apart from that no issues and the vehicle allowed us to have a adventurous holiday!
David Hancock
02 February 2019
Great van suitable for 1 adult & 2 x children. well presented and clean with all required facilities as advertised provided. Easy to drive and navigate around Tasmania
Scott Gavin
19 January 2019
Did everything perfectly. Lots of room and versatile.
Terence Jones
02 January 2019
Just a bit tight in the kitchen section. Impressed with the amount of linen kitchen items etc.
Lam Chee Siong
29 December 2018
Clean and in top codition
Louise Giroux
08 December 2018
The campervan was perfectly adapted to our needs. It was comfortable, well designed and clean. We would have liked a good non-stick frying pan instead of the roast pan. We enjoyed the camping experience and would hire the same vehicule for another trip.
JEAN CLAUDE DECARIE
01 December 2018
Excellent campervan. Extremely well equipped with everything needed for cooking and sleeping. The size in perfect for 2 people and makes it easier to find a nice site in a campervan camping.
ran smoothly. drives easily. very good condition
Jennifer Stewart
10 November 2018
5
Geoff Walch
04 November 2018
We caught ourselves on the lever on the fridge that sticks out into the galley of the kitchen.
Grame Hopf
29 September 2018
Ideal for a weeks holiday
Robyn McEwan
25 August 2018
Vehicle was comfortable to drive. As advised when picking vehicle up we found that due to high profile it was prone to be buffered by high winds. We found bedding very comfortable and glad we grabbed extra Doona as nights were a bit cold in Tasmania for this time of year. By using one each we were warm and cosy.
Wahyu Hendriyanto
05 August 2018
Very good campervan and clean. Very good when traveling around tasmania. Engine strong when going up hill. Petrol still alright. Air conditioned good. Everything good except 2 which is 1. smoke detector. I'm asian and always cooking with oil and noodles. Smoke detector very very sensitive. A bit smoke from cooking alway beeping and very loud. Even I opened all the doors and windows and curtains. Annoying me 2. Water hose too short. At least need 10 m.
Michael Picton
21 April 2018
Hrrst camper. Set up is convenient compared to other campers. The pick up and drop off service team made it easy for me for the whole process. Recommend to other travellers.
Matthew Smitten
14 April 2018
Did the job
Julia Lohmann
01 April 2018
Nice and reliable but used plenty of petrol, even when eco was indicated
Julia Lohmann
31 March 2018
Nice and reliable but used plenty of petrol, even when eco was indicated
Under powered engine for a hilly / mountainous winding road that is a lot of Tasmania. Would be good to have the option to remove from the van whatever will not be needed for 1 or 2 people, in particular the top bed wood base which is heavy. Therefore it adds to the top heaviness of the van and fuel cost in having to cart it around. Overall the van was good for what I wanted.
Michelle Harvey
19 March 2018
The camper van was comfortable and well kitted out for our road trip around Tasmania. Easy to set up table during the day and bed for the night, Supplied ample sheets and bedding. Great storage within. Only let downs were - it would have been nice if the seat belt had been adjustable after a few days belt was cutting into my shoulder. I would advise taking cds and dvds for anyone - the tv reception is utterly useless when out of the main areas. No reception on radio again if out of the main areas and when there is - it is prettty much all talk radio and not enjoyable to listen to
Dorinda Hart
03 February 2018
Excellent van. Well set up. Gr8 condition.
Jessica Tubb
03 February 2018
Very comfortable, had everything we needed. Such a great holiday! Thanks!
Geoffrey Campbell
30 January 2018
Only one suggestion - a inverter to run the 240 volt appliances supplied, would have been great but was, in no-way a must!
Geoffrey Campbell
28 January 2018
100% no complaint what so ever!
Philippus Henk Steyl
27 January 2018
Was a great campervan and had all we needed for it. Little cramped for packing space but we managed to sort it out. I will recommend you guys to people wanting a canpervan in Tassie as we had a good experience. Thank you
Nick Skelton
16 December 2017
We enjoyed the campervan but found a few things that need attention. The handle for pulling the rear door shut needs to be in the centre for easier closing so you are not stretching too far to one side. We also prefered the old layout with the cooking area by the sliding door and the extra outside fold-down table, and the bed/seating area at the rear. The cenrtral section of timber with the legs screwed on was a pain to put away as there is no easy place to stash it. The sliding cupboard doors under the cooking area did not slide open all the time easily and weree often prevented by the ill-fitting lower drawer,
Saskia Meier
30 October 2017
All though the vehical was small it was perfect for us and herttz did not forget a thing everything was included and even more then what i was expecting i was so happy with the whole experiance, thanks you so much
Caleb Cunningham
03 October 2017
Nice tidy set up. Everything worked and was well maintained.