The Kings Canyon And The Watarrka National Park
The Stark Beauty of Kings Canyon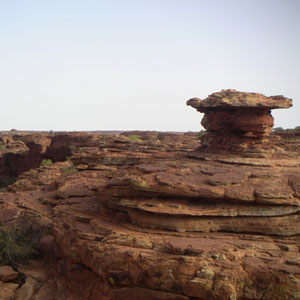 The centre of Australia is dominated by sun-baked red earth and decorated with wind-sculptured geological features that vary in their degree of spectacle from interesting to breathtaking. Nowhere else can really offer the isolation and the wide open spaces of a desert. There are various spots in the Australian Red Centre that – if they were located in America or Europe – would be overwhelmed with visitors because of their beauty. These are the supermodels of the natural world, and one such spot is the Watarrka National Park in the Northern Territory, home to the majestic Kings Canyon.
A campervan lets you get up close to the scenery and you can travel at your own pace. Lying 350km southwest of the Alice, Watarrka National Park is located on the Western Side of the George Gill Ranges. The park is characterised by steep gorges and mountainous rocky landscapes. As an important conservation area, the park is home to over 600 species of flora and fauna, many of them exceedingly rare. Kings Canyon rises to heights of 100m, with its sandstone walls that sometimes look as if they were cut with a knife. At its deepest point it plunges down 270m. On the bottom of the canyon are perennial waterholes, while the upper part of the gorge - made lush with cycads, ferns and palm forests - is called the Garden of Eden.
To the Luritja aboriginal people, this area was sacred, and their dwellings and places of assembly are decorated with rock paintings. The area has a rich and interesting Aboriginal history and has been home to the Luritja people for more than 20 000 years. Westerners are relative newcomers to its charms, with the first white man to discover it being Ernest Giles in 1872.
On the plateau above the canyon lies the Lost City, an area of red sandstone rocks weathered into the semblance of ruined houses and streets. To explore the gorge, visitors can hike the steep 6km Kings Canyon Rim Walk, which takes around 3-4 hours, or take a shorter hike through the bottom of the gorge to a viewing platform. Scenic flights and camel safaris are also available.
Today, Kings Canyon is one of the most visited areas in the Northern Territory, and caters towards thousands of visitors a month. There is a visitors' centre about 20km away from the gorge, and although this isn't always manned it provides a good introduction to the history, culture and attractions of the region.
The Kings Canyon has a little sibling; it lies nearby and is known as Kathleen Gorge. This gorge has a spring fed waterhole at its head known as Kathleen Springs, which are popular amongst bushwalkers looking to cool off after a hot day in the sun. There are a number of bushwalks here that are suitable for children, and there is even one that joins up with Kings Canyon. This should only be attempted by the very fit and rangers must be notified about your walk before you set out. Many people choose to stay overnight on this walk, as it is a long distance to cover in a single day.
Being such an isolated spot, accommodation options are fairly limited. Kings Creek Station is a camel and cattle ranch that has a large and shady campsite, where you can park your campervan with the other campers. There is also safari-like resort for travellers who aren't into camping. A restaurant and a swimming pool complete the creature comforts, don't visit without trying one of their infamous camel burgers.
Kings Canyon and the Watarrka National Park are considered to be some of the jewels in the Northern Territory's crown. No campervan tour of the Red Centre would be complete without planning to visit this Outback oasis.