Sydney And Surrounds
The Beautiful Sydney Harbour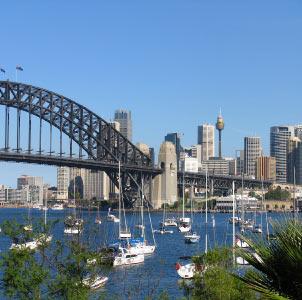 Sydney is on the international map as being one of the most attractive cities in Australia,and with landmarks such as the Opera House, Harbour Bridge and the beautiful Darling Harbour, it is a great base to see the city and the surrounding countryside. It is also the perfect place for
campervan hire
, as Sydney offers some of the best deals available!
New South Wales
has amazing contrasting landscapes and attractions, and many of these are accessible from the capital city. It seems that every landmark is a starting point for exploring another, and there are a lot of landmarks! Sydney is also a stopover for those driving to the ski slopes south from Canberra, or the
Blue Mountains
close to an hour inland.
The climate has been likened to Mediterranean temperatures, with no major extremes in weather. Mid summer can sizzle to over 30 degrees, but winter chills are bearable as long as you come rugged up.
If you plan take a good look at the city, there are plenty of caravan parks to stay in your
campervan hire Sydney
on the outskirts of Sydney, but if you want to stay closer, Lane Cove Tourist Park is a fantastic choice, as it is only 12 km from the city, and backs onto a national park so it is still a peaceful setting while you plan your itinerary. There are even canoes for hire!
The city centre is a metropolis of blended cultures, foods and sights. The sightseeing options are endless, but most travellers begin on the harbour at the Sydney Opera House. Known as one of the wonders of the world, it is a photographers dream, and at every angle is dazzling to look at.
Under the just as famous Sydney Harbour Bridge is the Rocks shopping district, which is likened to an outdoor museum as it is one of the oldest features of the city. You will need at least half a day to wander through the alleys and side streets to take in everything the shops have to offer.
On the other side of the harbour is another must do, the Taronga Park Zoo. With an amazing collection of native animals, including lions and giraffes, it is rare to find a zoo with such a view as Darling Harbour and the city skyline. The ferry ride is almost as enjoyable as the zoo, with fantastic sights on all sides. On your return you can't miss the Sydney Aquarium, also teeming with life under the water, and filled with aquatic displays that will take your breath away.
The Royal Botanic Gardens are within walking distance of the Opera House, and are a perfect place for a picnic lunch, with majestic trees and brilliant flower displays open to the public all year.
There are plenty of other places to picnic outside of the city centre. Manly is one of Sydney's beach suburbs, and skirts the Sydney Harbour National Park. There are lookouts along the coast route, and further along North Head Lookout rewards you with panoramic views of the city.
Driving inland from the city, a popular day trip is to the famous Blue Mountains National Park, known for its amazing rock formation, The Three Sisters. It takes about 90 minutes to get there, and also has camping facilities, swimming holes, fishing and
bushwalking trails
. One thing to remember is you must bring your own water.
Alternatively, the Royal National park is just over 30km south of Sydney, and holds the impressive title as the world's second oldest park. Although not large, it has diverse attractions, with walking, cycling tracks, beaches, forests and rich vegetation making this an unforgettable experience.
The beauty of driving a campervan is you choose where you want to go, and how you do it. Travelling around the Sydney district is just as enjoyable on foot or from the comforts of your vehicle, and it can't be done in just a few days. You will need to either stay for a while to take in all the sights, or plan to come back again as the choices are endless, and the memories will last a lifetime.
Jenny Brewer