Gems Of The Sapphire Coast
Merimbula Whale Watching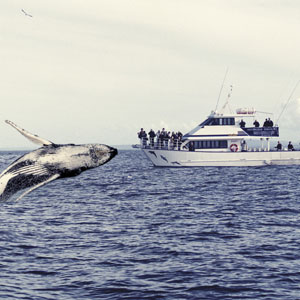 Dotted with coastal fishing towns, the Sapphire Coast, named for its brilliant blue waters, claims the most southerly section of the
New South Wales
coast. A haven for tourists, it is known for its focus on water activities, game fishing and famous cheeses. If you need a place to unwind, this is the ideal region for your campervan adventure.
You can travel here at any season as the climate is mild throughout the year. If the skies turn grey you can head inland for a lazy drive around the countryside, or you might prefer to wander through the local art galleries. With the choice of beach, sea or bushland, there is always something to see and do.
Known for its game fishing, Bermagui is located at the top of this pretty section of coast. There is no question that you will be drawn to this paradise if you love fishing, and the adjoining Wallaga Lake is also a fantastic place to cast a line. The Bermagui-Wallaga Lake walk winds from here along headlands via stunning beaches back into town. If you are ready for some salt air and sunshine this walk is perfect for you.
Driving further south, the Mimosa Rocks National Park is known for its pebbly beaches. One of its attractions is the Cuttagee Lake, which is safe for swimming and a perfect picnic spot for the family.
Travelling inland in your
campervan hire
, the coasts most rural town is Bega, which is known for its cheese and dairy farming. The Bega Cheese Heritage Centre is a favourite stop, as well as the Bega Valley Lookout, captivating at sunset. This town seems like a picture perfect country valley, with farm animals grazing in green paddocks against the rolling hills.
Just outside of town you can visit the Brogo Dam, an ideal place to pull over for a picnic lunch and explore the natural habitat, and the Mumbulla Creek Falls, known for its natural rock pools. Just like the rest of the coast, this area deserves to be explored at a slow pace.
The seaside town of Tathra (known for its wharf and fishing industry) is a great base to visit the Bournda National Park. Located via Scotts Bay, this pristine wilderness is one of the Sapphire Coast's hidden treasures. Covering over 2000 hectares, from Tathra to Merimbula, you will find a great camping ground at Hobart Beach to base yourselves. With inlets, cliffs and beautiful views in every direction, it is a spectacular place to visit.
Merimbula is a favourite holiday destination with beautiful lakes and beaches drawing locals and tourists alike. It is known for its shopping, and the wharf is also a favourite with fishermen. The most popular place to relax is Main Beach which stretches for five kilometres along pristine coastline. Not far away is the quieter Pambula, which is often referred to as Merimbula's twin town.
The most southern town on the Sapphire Coast is Eden, which boasts one of the largest fishing fleets in New South Wales. Eden was once the whaling capital of Australia, so the Eden Killer Whale Museum is a must which features displays of whaling boats, whale skeletons and lots of history. Eden Wharf is a wonderful place to watch the fishermen, catches being unloaded from heavy boats, and the sights and smells of this working town.
The last leg of the Sapphire Coast brings you to Ben Boyd National Park at Green Cape, endless picnic and camping spots and raw natural beauty. Located at the tip of this expanse, Green Cape gives you breathtaking views of the rugged coastline and sapphire ocean stretching across the horizon.
For some extra solitude, make sure you visit Womboyn Lake, known for its superb oysters, abundant fishing and vast stretches of wilderness. With a caravan park, general store and handful of locals in the vicinity you can be assured of some privacy to fish, sightsee or wander along the incredible beaches for as long as you please.
The Sapphire Coast is a rich, diverse Australian treasure. With its natural attractions and beauty, you will be glad you came to visit with your
campervan hire New South Wales
.
Jen Brewer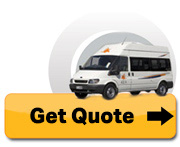 Related Information
Cat Balou Cruises Ros & Gordon Butt have been operating Cat Balou Cruises since 1987 are the longest established whale watching operators in NSW, having conducted their popular Whale Watching Cruises at Eden since 1990.