Discover The Riesling Trail And Beyond
A Stunning Vineyard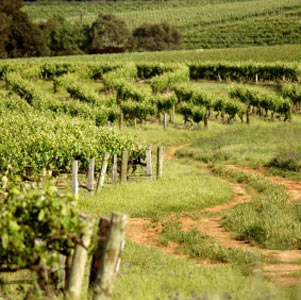 The ultimate escape to the green rolling hills of the
Adelaide
hinterland can not only be discovered by campervan, but also by foot along South Australia's famous Riesling Trail. This lush walk amongst the grapes and stakes of the wine trail is not far from the northern Mt Lofty ranges and just an hour and a half from Adelaide.
South Australia
is known for its world class wines and vineyards, with this regiona hidden paradise for those seeking a relaxing getaway. The beauty of the
Clare Valley
provides the ideal escape from the hustle and bustle of the city. With such diversity of interesting places to explore, this is the perfect destination for a
campervan hire
holiday.
One of the best places is call home would be the 'Clare Caravan Park' located predictably in the township of Clare. It is ideally based close to the many walking trails in the area, and some of the best wineries in the Valley. There is a swimming pool, barbeque area and with a sprawling thirty acres of gum trees and grassy sites you will want to stay longer.
You might prefer to take a day trip or two from Adelaide, which is popular amongst tourists and locals. Once you arrive you might want to start with the picturesque twenty five kilometre Riesling Trail which can be cycled or walked at your own pace, running from Clare to Auburn. This gentle walk will bring you up close and personal with the wildlife, friendly locals, and most importantly the wineries in between, lining the hills in every direction. This interactive walk has placed the Clare Valley on the map, bringing visitors back time and time again for another taste of rich country life.
Restaurants are scattered through the valley, usually accompanying the fine wineries, with the Clare Valley Gourmet Weekend held every May if you are fortunate to time your trip with this major event. The wine tasting, eating and touring of wineries may take up a few days of your trip, which is fully understandable in this decadent region. Once you are ready for more exploring, the Spring Gully National Park is a sight to behold, with the Cascades waterfall and Bluegum Lookout always a great reward for your trekking efforts.
The Billygoat Hill and Neagles Rock Lookouts are also worth the visit, bringing panoramic views of the valley and especially beautiful at sunset. Another great spot to relax and unwind around a picnic lunch is Inchiquin Lake, with fishing, walking trails and a great bike track for the kids. Brooks Lookout is another popular picnic spot, which spans the valley right through to
Yorke Peninsula
. Add this to your list of stops along the way as you experience the valley at its most picturesque.
Set half a day aside to explore Burra, as you head through Burra's Heritage Passport Trail. This will take you eleven kilometres past the Redruth Gaol and copper streets. You will also pass the Burra Mine, another attraction which takes you back to a slice of history that made Burra what it is today.
Mintaro is another 'must do', with the drive as fascinating as the town itself. The architecture, antiques, gardens and quaint old streets all add to Mintaro's charm and deserve a closer look by foot. Take the kids to Mintaro Maze which is a series of hedges and conifers all designed to outwit the most dedicated maze lover. Mintaro is famous for its local slate, and you can even buy your own slate maze. These are just some of the many attractions offered in this sprawling oasis of vineyards, including everything you need for a relaxing country getaway. The villages are inviting and friendly, the Riesling Trail is the perfect way to see the country from a closer perspective, and the local food and wine combine to present this region as one of the most favoured in South Australia. Now that you know about it, there is no time like now to start planning a campervan holiday to the Adelaide hinterland.
Jenny Brewer