Port Lincoln: Hub Of The Eyre Peninsula
The Beautiful City of Port Lincoln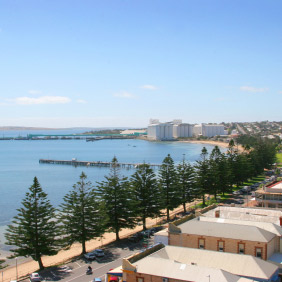 The abundant wonders of the
Eyre Peninsula
are well documented, and make for an exciting and intriguing tour in a campervan. One of the largest towns, which is something of an informal capital for the peninsula, is Port Lincoln- an important economic base for the grain and fishing industries in the region. With its near perfect Mediterranean climate, its sophisticated harbour and its wealth of attractions lying nearby, Port Lincoln is also a great place to base yourself in your
campervan hire
while you explore the region. With a population of 11 350 it is big enough to have all the amenities of a modern city, yet small enough to retain that 'country' feel.
Set on the shores of Boston Bay (which is three times the size of Sydney Harbour), Matthew Flinders first stumbled across this region in 1802. Since then Port Lincoln's long history has been a prosperous one, first being a base for whalers and sealers, and then when it became more permanently established it became a large fishing port.
Today its economy is largely driven by the massive grain handling facilities built on the foreshore, and it is an important storage and distribution point for grain grown here. The fishing industry is just as prevalent, with many tuna fishermen having become millionaires from the high demand for certain types of tuna. One of the talking points of the city are the large mansions they have built for themselves. Ostentatious and vulgar, it seems money can't buy taste!
The history and heritage of the town is evident in the old style architecture of many of the original buildings, and numerous museums pay homage to the towns rich past. The Mills Cottage Museum is an old limestone cottage built in 1866, and houses a bunch of memorabilia from the early days that includes English furniture brought over in 1839. Another interesting museum is the Rose-Wal Memorial Shell Museum, which houses a private gleaned collection of shells and marine creatures compiled over a lifetime of collecting and trading. The Alex Stenross Maritime Museum is also worth a look- it has numerous artefacts relating to local maritime history, including dinghies, tools and photographs.
If you want to get out of town and go for a tour in your camper, then head south to the gorgeous beaches and magnificent headlands of the Lincoln National Park. It begins right on the tip of the Eyre Peninsula, about 15 kilometres south of town, and has a stunning hinterland to match its coastline. Extensive mallee woodland forests, limestone hills and granite outcrops can be explored in your campervan, and bushwalkers will love the numerous designated trails for them. At the entry to the park is an information station where you can get entry permits, and camping permits if you are spending more than one day in the park. There is a cottage, Donington Cottage, which is available for hire if you do not feel like camping.
The town of Coffin Bay, set on the bay of the same name, is also an easily driven 45 kilometres to the west. The population of 600 people swells to over 3000 in the summertime, so if travelling there in the summer months be sure to book your caravan spot in advance. Once there simply enjoy the beautiful coastline of Coffin Bay, which is characterised by natural inlets, bays and pristine waterways. In contrast are the jagged cliffs and wild seas of the Coffin Bay Peninsula, which adds to the diversity of the scenery you will see on your tour.
If you want to head offshore from Port Lincoln there are a few exciting activities you can partake in. Boston Island and the Spilsby Island Group are beautiful islands to visit, but it is Dangerous Reef that really attracts the thrill seekers. This is one of the most well known Great White Shark locations in the world, and charters to see or dive with these amazing creatures are available. The reef also has one of the largest sea lion colonies in Australia, and there is an underwater viewing platform to let visitors view them in their natural environment.
Anytime of year to visit Port Lincoln is a good one, but youd do well to combine it with one of the series of annual festivals that celebrate its fishing and sailing heritage. Tunarama is a big one, and is spread out over the Australia Day long weekend in January. Then in February there is the Lincoln Quin's Blue Water classic Yacht Race, the Lincoln Week Regatta in March and the Port Lincoln Game Fishing Club tournament in April. With so much on you really are spoiled for choice! Port Lincoln is easily accessible too, being just a short flight or a pleasant 635 kilometre drive in your campervan away from
Adelaide
.
Gavin Wyatt