Magnificent Margaret River
A Surfing Competition in Margaret River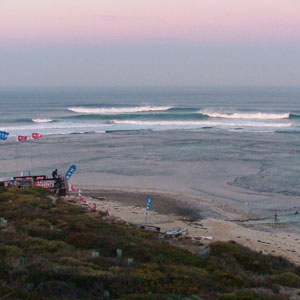 Western Australia has so much to offer, with stunning beaches, vast desert landscapes, rugged landforms and sweeping countryside. It also offers the stunning Margaret River. Known for its sweeping vineyards, fantastic surfing beaches, caves and forests, there is something here for everyone. One of the best ways to enjoy this fantastic spot is in a
campervan hire
, as you can take your time exploring the surrounding regions, and then base yourself wherever you like for as long as you please.
The three hour drive south from
Perth
encompasses fantastic scenery along the way. The easiest route from the airport is along the Roe highway which takes you via Mandurah through the towns of Bunbury and Busselton. The alternative route can be taken from the city along the Kwinana Freeway. Either way you are guaranteed an enjoyable journey.
The seasons are displayed with colour and diversity in the Margaret River so you can come at different times of the year and feel like you are in a different place. Autumn brings misty mornings and popular afternoon walks; winter brings cosy nights by the fire; spring brings picnics, wildflowers and outdoor play and summer of course brings lazy days by the sea and endless sunny days.
There are many accommodation choices are available, such as Sandy Bay Holiday Park in Busselton. This is very close to the famous Underwater Observatory and also the town's two kilometre jetty which is a tourist attraction in itself. Bunbury Village Holiday Park is closer to Perth with close proximity to some of the more popular surfing beaches, and is ideal for families.
With over two hundred vineyards dotted throughout the region, you can be guaranteed some of Australia's finest wines. There are a number of fantastic restaurants attached to the ninety or so wineries, and you have a large choice of great food and wines right on your doorstep. Avid wine lovers will love the Shiraz and Chardonnay selections home grown in the Margaret River. Visit in November and you will experience the Margaret River Wine Region Festival.
Surf's up in the Margaret River. The waves of this region are some of the best in the world, and visitors flock here during the summer months. There are over 130 kilometres of surfing beaches here, so you can be guaranteed a wave to yourself. For those who prefer a quiet ocean dip, Hamelin Bay has a great mix of swimming, snorkelling and scuba diving and is just as perfect for the avid sunbather.
As if you didn't have enough sport already, throw in some fishing, canoeing, kayaking, golf, cycling, bowling and tennis. Don't forget all the water sports, bush walking trails and spectacular caving. There truly is something for everyone who is looking for some adventure and outdoor enjoyment.
Nature lovers flock to this region from August to November when over 2500 wildflower burst into full bloom and display rich colours that can't be described.
Western Australia
is known for its radiant and prolific wildflowers transforming arid landscapes into pictures of beauty. The tallest lighthouse on Australia's mainland is a fantastic day trip alternative, located at Cape Leeuwin where the Southern and Indian Oceans meet. Standing a proud 56 metres above sea level, it has a powerful light that shines for almost fifty kilometres. The famous Cape to Cape Track begins here and takes seven days to complete, weaving through each coastline along some of the states most stunning natural scenery.
The Margaret River bring such diversity, with rural life, international wineries and world renowned adventure sports all mixing to bring a popular and relaxing holiday destination. Surfers, farmers and winemakers all have the right idea making their home in this hidden paradise, although with more and more tourists visiting every year it is hardly hidden. Now it is your turn to discover its treasures.
Jenny Brewer