Jump Over To Kangaroo Island
Stunning Beach at Weirs Cove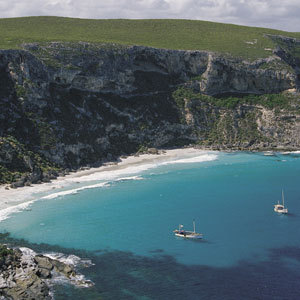 If you are after an unspoilt paradise, Kangaroo Island, being Australia's third largest island, is right up there with unforgettable experiences. Located just over two hours from
Adelaide
, drive to Cape Jervis for a ferry ride that will take you across to its stunning coastline where your campervan adventure will begin.
The climate is fairly mild, with cooler nights and the average temperature by day of 23C. It gets a hotter in the middle of the island with temperatures up to 40C. There are plenty of camping spots around the island, but it is on a first in, best dressed basis. It is best to pick up your permit at Kingscote but remember it is busy during holidays.
Be prepared for some amazing wildlife experiences. There are plenty of kangaroos, as well as koalas in the gum trees, echidnas, goannas, penguins, seals and all varieties of birdlife imaginable. Bring your camera as you are sure to capture some incredible moments. If you are looking for a great beach, head to D'Estrees or Pennington Bay which is excellent for surfing, or just fossicking on the shore.
The main town centres are American River, Kingscote, Penneshaw and Parndana, and there is an accessible sealed road which runs around the island. You will still need to be very careful driving especially on the smaller roads.
You are sure to find an uninhabited stretch of coastline if you want to relax for some of the day to enjoy a completely unspoilt existence. Why not take an underground tour of the cave systems starting from Kelly Hill. There are so many places to visit that make you feel like you are the only person around for miles.
The Flinders Chase National Park has to be seen as is known as the gateway to the island for locals and tourists. There is an information centre at Rocky River, and camping is permitted here. With its isolated and rugged coastlines, incredible views and abundance of wildlife you won't want to leave. Remarkable Rocks are just as their name depicts, and worth the trek to see them up close. Follow Snake Lagoon right through to the ocean for a relatively easy bush walk. You will get your share of lighthouses here, with a number of them spread over the island. One of the best known is situated at Cape Willoughby, which is also the oldest in
South Australia
. Cape Borda and Weirs Cove also have fascinating historical remains, with their lighthouses welcoming all travellers to come closer.
There are nightly trips to see the cute penguins, a favourite with tourists. You can't miss the Kangaroo Island Marine Centre, based in Kingscote, which also has a large number of marine life common to the island on display. During daylight hours, there are tours available to visit the Seal Bay which will bring you to a multitude of seals basking in the sun on the rocks. You can also see Admiral Arch rock formation from here, great for that Kodak moment.
For the bird lover, head to Murray Lagoon to see thousands of ducks, swans and birdlife that will take your breath away. There is even a platypus waterholes walk for those who want to see more of this shy mammal up close. It doesn't matter where you explore on Kangaroo Island, you are sure to come across natural wildlife and striking wilderness in every direction.
There is also a vast array of culinary choices here, with cooking demonstrations at the seafood shop, boutique wines and famous cheeses found at the Island Pure Sheep Dairy. Cliffords Honey Farm is known worldwide for its pure honey produced by bees imported from Italy.
Being so close to the capital city, Kangaroo Island really is one of the major natural wonders of South Australia. Even for a few nights getaway you are guaranteed to return home invigorated by the salt air, long uninhabited beaches and panoramic scenery. It will be a
campervan hire
adventure you will always remember, and a place to visit again and again.
Jenny Brewer 2007