Hobart And Its Surrounding Regions
Bustling Salamanca Place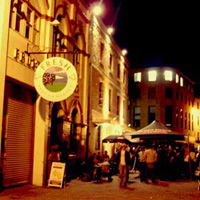 Colonial Tasmania was one of the original penal settlements in Australia. It is steeped in the history of the convicts and has a heritage enriched by all the migrants who settled there. Not all of its past is pretty, but it has overcome those unsavoury origins to become a place full of interesting locals who know how to make the best of Tasmania's natural resources. Tasmania is like no other state in Australia and Hobart is like no other capital city.
Tasmania is quite small compared to any other Australian state, which makes it a convenient place to tour by campervan as you can see a large number of attractions in a short time. Campervan hire in Tasmania, particularly in Hobart, is a very simple process, so all you have to do is plan your itinerary each day and go where you please. Using Hobart as a base, you can easily tour most of Tasmania. Of course, you have to investigate the city of Hobart before driving off to explore. Hobart's waterfront spoils you for choice with an array of restaurants, shops and entertainment. There are also the options of boating, fishing, water sports and cruises running daily along the majestic Derwent River. A visit to the Salamanca Markets is highly recommended, even if you aren't fond of shopping. A walk through Battery Point will feel like a drop back in time over a hundred years, where you can easily imagine you are living in a different era. If you love museums and art galleries, you have to visit Museum of Old and New Art, Tasmanian Museum and Art Gallery and the Maritime Museum of Tasmania, just for starters.
You will need a day to visit Mt Wellington. You can drive to the base of the mountain at Fern Tree and then begin the 5-6 hour walk to the summit. There are a number of walking trails to choose from and you will be rewarded with spectacular views of Hobart and beyond. If you are not athletic, you can drive to the summit for the views, and to explore the alpine ecology.
What also separates Tasmania from the rest of Australia is that the four seasons are so distinctive, with a proper spring and autumn. The highlight of summer is the Taste Festival, held on Hobart's waterfront on Princes Wharf No.1, the Parliament House Lawns and the Salamanca Lawns. The festival showcases what Hobart has to offer with great food, art & crafts and entertainment. The festival runs for 11 days from late December, to coincide with the Sydney to Hobart Yacht Race, which finishes off at Castray Esplanade on the River Derwent. Temperatures are still mild enough to be comfortable and so there is no effort entailed as you enjoy the lengthy extension to the festive season. Autumn bursts forth with a myriad of trees turning gold, orange, red and rust brown and a campervan offers the perfect opportunity to drive through the countryside to catch this turn of the seasons. In March, Richmond holds the Richmond Village Colonial Fair, highlighting the town's heritage by stepping back in time with historical costumes and a town fete. April is when the annual Derwent Valley Autumn Festival is held at The Esplanade, New Norfolk, with hundreds of entertainers across five stages. There are stalls full of local fine food and wine, arts, crafts and produce, plus a variety of special events. It is also the season when the best of the harvest is available for the foodies.
Snow-capped mountain peaks and cosy log fires are a large part of the pleasures of the Tasmanian winter, and it is when the Huon Valley Mid-Winter Fest is held. This festival celebrates the spirit of the apple tree and apple cider, and on offer are folk music, wassailing (with prizes for the best costume) and stalls with a feast of winter treats, all sorts of drinks, crafts and storytelling. Tasmania does get its fair share of winter snow, so come see scenery that has been dusted with sugar.
As you might expect, spring is the prettiest season with an abundance of flowers and flowering trees. The Royal Tasmanian Botanical Gardens have been holding the Spring Community Festival since 1986. This event has become a celebration of Tasmania's cultural diversity and vibrant community spirit. The Royal Tasmanian Botanical Gardens are located in Queens Domain, Hobart. Founded in 1818, the gardens are a place of beauty, with bright displays of annuals, a Japanese garden, a cacti garden, tropical plants and the largest collection of conifers in the southern hemisphere. Spring is also when the Royal Hobart Show is held, at the Royal Showgrounds in Glenorchy in October. Take a drive through the farmlands in the Huon Valley to see all fruit trees in flower.
So, as you can see, there isn't any time of year that is better than the others for a visit to Hobart or its surrounds.. Hobart provides plenty of accommodation options; one of the most popular for campervans being Seven Mile Beach Caravan Park, located 15 mins from the city. It is a great spot right on the beach for a few nights or even a week, and is a popular location for horse riders. Barilla Holiday Park is located in beautiful Cambridge, Tasmania and is a convenient 15min drive from Hobart. Treasure Island Caravan Park is beautifully situated on the banks of the Derwent River. A range of powered sites are available at Hobart Airport Tourist Park for campervans. Elwick Cabin & Tourist Park is located in central Hobart and is a fantastic base as you enjoy the nearby attractions. Hobart is the perfect end or beginning to a campervan holiday around Tasmania and its stunning attractions will bring you back time after time.