Geelong – Gateway To The Great Ocean Road
The Twelve Apostles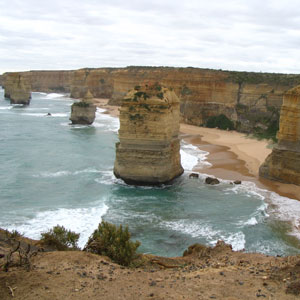 Looking for a city central to some of the most exhilarating scenery in the world, with historical and local attractions, and plenty of parks, shops and restaurants? Geelong is that ideal tourist destination, not just because it is a perfect base to visit the
Great Ocean Road
and surrounding attractions, but because it is a remarkable city in itself. Perfect for
campervan hire Melbourne
, it has everything you would expect in Victoria's second largest city.
Situated south west from
Melbourne
, there is plenty to do within and around the city centre. With friendly cafés and waterside restaurants there is a relaxed ambience that will keep you coming back. The cities east brings you to the Geelong Botanical Gardens which features exotic plants, giant palms and sculptures that create the ideal spot for picnics and a leisurely stroll. With so many diverse attractions in the area it is hard to choose which one to see first.
You could start at the Geelong Goal. This ancient landmark has a disturbing past that is worth discovering on its educational tour. Only reopened recently when a new prison was built, there is a wealth of history here. For some culture, the Geelong Art Gallery is over a century old with fascinating gems to discover. You will want to take your time here enjoy the artwork and displays.
You may be a car lover at heart. Why not visit the Ford Discovery Centre which features everything you would want to know about the legend of Ford. You will travel on a journey of discovery through the history of this Australian icon. Even if you're not 'into' cars like some of your friends, once you've been here you soon will be!
The National Wool Museum is a must see as the sheep industry has been such a big contributor to Geelong's development. Built in an18th century wool store, you will be captivated by the shearer's quarters, songs, machinery and exhibitions. With a café and shop to purchase sheepskins and souvenirs you will need some time to linger on and make the most of this historic attraction.
Further out of the city, the beautiful Barwon River is ideal for cycling, fishing or a family picnic or barbeque. There are plenty of walks, and over 20km of bike paths and gardens. Also easily accessible by
campervan hire
are the Buckley Falls which have a platform for viewing the panorama of the valley and river below.
Ocean Grove is the place to be in summer, which lies to the south of the
Bellarine Peninsula
, with the Barwon River in the west. Its often has the largest beach crowds in Victoria, with safe beaches and proximity to the two main cities a big factor. The Ocean Grove Holiday Park is fantastic if you want to stay for a while and soak up the sun. With excellent facilities and a river setting it is great for fishing, water sports or just lazing around and enjoying the views.
Close to twenty minutes picturesque drive west of Geelong lies Torquay, home of Bells beach which has become popular with surfers. This beach town is the starting point to the breathtaking Great Ocean Road which presents spectacular raw beauty. Covering a large portion of southwest
Victoria
, tourists flock here from all over Australia to experience the majestic natural wonders this coastline has to offer.
If you are keen to stay at length in this region, Apollo Bay is a tourist paradise with rainforests, waterfalls and excellent beaches at your doorstep and just over 100km from Geelong. The Kooringal Caravan Park is a great base to explore the famous Twelve Apostles, Cape Otway and coastal attractions. An excellent place for fishing, horse riding and walking, this is an ideal place to stop.
Geelong truly has something for everyone. There is such a diversity of attractions, sports, culture and natural beauty that will keep everyone fascinated. It is a fantastic city for a self drive holiday with so much to see and do. Even if you are only here once, it has to be seen at least once in a lifetime, if not a few more.
Jen Brewer