Finding Forster
Seal Rocks near Forster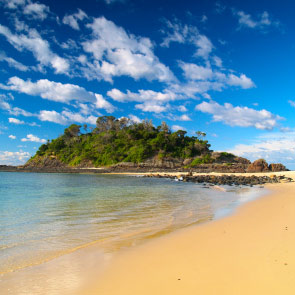 The Great Lakes region is one of the most popular holiday locations in New South Wales. It is easy to see why, with its outstanding landscapes reflected in shimmering lake and ocean waters. The twin towns of Forster and Tuncurry have a prime location, with Wallis Lake on one side and the ocean on the other. You will reach the town in under 4 hours when driving north from Sydney. Every month of the year is a wonderful time to visit, with plenty of water sports available, fantastic fishing in the waterways, rainforest walks in the hinterland and an enticing array of shops for a relaxed stroll or shopping spree.
Forster and Tuncurry are an excellent destination for a campervan holiday with their great selection of caravan parks, local attractions and idyllic location. Your first stop should be the Great Lakes Museum, located in in Capel Street, Tuncurry. The old National Bank building in Forster was transported across the bridge in two pieces to become the museum proper, housing a growing collection of artefacts. Over the years, the Great Lakes Museum has expanded to include the original Tuncurry School building, Cheers Cottage, the Police lockup, and a working windmill, as well as other outdoor displays. For the craft lovers, you must visit the Forster Arts & Crafts House at Breese Parade, Forster. For families, the Big Buzz Fun Park, at 1173 The Lakes Way, offers water slides, toboggans, tennis, mini golf, quad bikes and more.
If you prefer, there are a number of beautiful, secluded beaches in the region. The most popular beaches are the Forster Main Beach and One Mile Beach, serviced by Forster and Cape Hawke Surf Lifesaving Clubs respectively. Pebbly Beach is popular with local surfers. Nine Mile Beach at Tuncurry is also popular and worth visiting for the Tuncurry Rock Pool, an enclosed swimming area nestled into the break wall. With a kiosk, children's play area and barbeque facilities, Nine Mile Beach is an extremely popular spot for families. Wallis Lake is one of the cleanest lakes in Australia, and - as well as being a great spot for swimming - its crystal clear waters are home to a rich seafood harvest including the famous Wallis Lake oyster.
Just north of Forster-Tuncurry is the great natural attraction of the Booti Booti National Park. There are a number of places to stop and enjoy the views; the 224m high Cape Hawke to the north, the 169m high Booti Hill, and the 96m high Charlotte Head in the southern end. Park activities include hiking, swimming, bird watching and whale watching (subject to the whale migration). Camping sites are located at The Ruins, in the Booti Hill area at the park's southern end. A lookout is located on top of Cape Hawke.
The region around Forster-Tuncurry has other great family attractions. Little Darlings Doll Museum & Coffee Shop is in Failford. At nearby Nabiac, there is the Honeycomb Valley Farm and the National Motorcycle Museum, with Australia's largest collection of vintage, veteran, and classic motorcycles. Just south from Forster is Seal Rocks, a small village that has vigorously fought commercialisation. Don't be fooled by the town's name, there are no fur seals; they have been long gone due to hunting. In modern times, the Sugarloaf Point Lighthouse is one of the focal points in this area, a fantastic spot to take photos and enjoy a quiet stroll along the headland. The Myall Lakes National Park is also a short distance away and equally as secluded and unspoilt. Located at Bombah Point, Myall Lakes, is a beautiful place to take your campervan. Myall Shores Holiday Park is immersed in nature, with waterfront sites that allow you to take in the amazing lake and the peaceful surrounds.
Forster, Tuncurry and the Great Lakes region is a unique holiday destinations that offers plenty of opportunities to do something you have never done before. It is one of those places that just begs you to explore its many hidden treasures. There is no better time than now to start planning your next campervan adventure to Forster.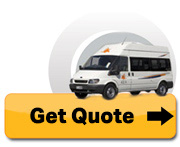 Related Information
Forster Beach Caravan Park Forster Beach Caravan Park offer's some of the Holiday Coast's best and most affordable accommodation.
Scotts Head Holiday Park Located adjacent to beautiful Forster Beach with its spectacular headland, also offering a relaxed holiday in a back to nature setting where magnificent coastal views can be enjoyed.
Tuncurry Beach Caravan Park Tuncurry Beach Caravan Park is centrally located in an absolute beachfront location, adjacent to Wallis Lake.