Touring The Fleurieu Peninsula
Fishing at Point Elliot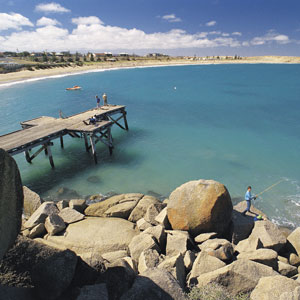 A coat hanger-shaped strip of land jutting out into the ocean, the Fleurieu Peninsula has been a favourite holiday haunt of South Australians and tourists the world over for generations now. At its closest point it is just a 40 minute drive to Adelaide, making it easily accessible in a
campervan hire
. And when you make it there, and the wide expanses of this special part of the country open up before you there is nothing to stop you exploring it further and discovering quaint coastal villages, lush conservation parks and scenic beaches. Its close enough for a daytrip, but its also large enough and got enough going on to fill a hundred long holidays, in which you can tour around places near the Southern Ocean, the Murray River and the Coorong National Park. Its the perfect motorhome destination!
The temperate climate of the Peninsula has helped contribute to its popularity amongst tourists. It is very typical of the Mediterranean regions, with cool winters and warm to hot summers meaning anytime of the year is pleasant to visit. This climate has also made this a very fertile region, rich in natural produce. As you drive around you will notice lots of agricultural activity, and there are plenty of roadside stalls selling local produce such as cheese, olive oil and exotic fruits. The fertile environment has also made this one of the leading wine production areas in Australia, with a total of 75 cellar doors offering wine tasting and educational sessions. A visit to one or more of these is highly recommended, as a relaxing day sampling wine and wandering amongst the vines can be topped off in the restaurant which many of them have on site. The town of Mclaren Vale and its surrounding lands have some of the best wineries in the country, so try and fit this area into your touring itinerary.
Many of the attractions on the Peninsula are water based, so don't forget your swimming togs, your surfboards and your beach cricket set! The coastline is simply spectacular, with pristine white beaches being the perfect base for lazy days in the sun. Diversity is what sets this coastline apart from others, and secluded calm bays lie side by side with fiercely weathered limestone cliffs. The waters are thick with fish of all descriptions, so anglers will be in heaven. The rich marine life also means scuba divers and snorkellors will be rewarded with colourful and lively forays into the underwater world! The numerous shipwrecks scattered around the coast are novel places to explore, and they attract divers from all over the world. The southern coast and the waters of St. Gulf Vincent are home to large populations of dolphins and fur seals, so keep your eyes peeled when in these parts for glimpses of these special animals.
Another highlight of the coastline are the diverse towns dotted up its length, which range from little fishing villages to port towns to true seaside resorts. There is no shortage of accommodation in these towns, with numerous caravan parks with million dollar views available for you to bunk down with your motorhome in. Victor Harbour is one of the more popular towns amongst visitors, and on summer days it literally bursts at the seams with people, fun and excitement. If you tire of the pretty beaches of Victor Harbour, then spend a morning at the Below Decks Oceanarium, where you can get an undersea look at large marine animals such as sharks and rays, and of course the smaller tropical fish. Granite Island lies just offshore, and you can take a genuine horse drawn tram across to it. Once there visit the colony of Little Penguins that have made their home here for many years.
A temporary resident of the waters off Victor Harbour is the humpback whale, who migrate here in large pods during the months of June to October. Some viewing platforms on the mainland are just 100 metres form where they frolic and play with their new babies, so it is well worth coinciding your visit here with the whale season if ever you want to get up close and personal with these magnificent animals. The whole Peninsula is something of a haven for wildlife and birds as it has over 20 conservation parks spread out over it. The biggest and most popular is Coorong National Park, which lies adjacent to the Murray River Mouth and consists of a string of shallow saline lagoons over 100 kilometres in length lying next to the ocean, seperated by high sand dunes. Its a refuge for large populations of migratory waders, who can be seen here in their thousands!
So with so much to see and do on the Fleurieu Peninsula, why don't you start planning your holiday here right away? Incorporating everything that makes
South Australia
great, from beaches to wildlife to lush vegetation, there is truly something here for you no matter your interests or your age group. A campervan from Discovery is the perfect way to explore the region, as it will give you the freedom and the independence you need to fully appreciate this beautiful part of Australia.
Gavin Wyatt