Devonport And Historical Towns
The 'Spirit of Tasmania' Docks at Devonport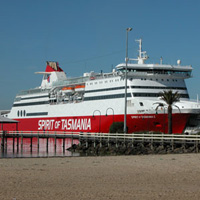 The northern Tasmanian city of Devonport is the berth for the trans-Tasman ferry, the Spirit of Tasmania. If you are bringing your campervan over on the ferry from Port Melbourne you can choose from night or day crossings, which takes roughly 9-10 hours. There is also a service from Sydney which departs three times a week. Once you arrive you are free to explore one of Australia's most compact and beautiful tourist destinations. The northern coast of Tasmania, around Devonport, is a wonderful introduction to any Tasmanian holiday.
Devonport is a welcoming, seaside city and popular as a base for travellers to explore the surrounding regions. It is therefore commonly known as 'the gateway to Tasmania'. It is well known for its Art Centre which is depictive of the aboriginal culture and local creativity. The Bass Strait Maritime Museum has fascinating maritime displays and a large number of beautifully-detailed model ships which would bring the child out of most of us. The Don River Railway and Museum are also worth a visit and provide an intriguing look at the history of steam trains in that area; but nothing can beat the experience of riding in the vintage or steam trains that run daily along the Don River. The most scenic location would have to be Mersey's Bluff headland, which gives fantastic views of the town, river and beyond. If you love historical buildings then drop in to Home Hill, home of Tasmania's only Prime Minister, the late Joseph Lyons and his wife, Dame Enid Lyons. The Tasmanian Arboretum contains the world's largest collection of Tasmanian living woody plants, conifers, and plants from northern hemisphere forests, in an extensive park, and has a kiosk for refreshments.
There are plenty of caravan parks to stay in around the Devonport area. Bay View Holiday Village gives you a view of the Mersey River which runs through Devonport so it is central and great for a base as you explore the region. Discovery Holiday Parks - Devonport offers a range of accommodation including powered camp and caravan sites. The Abel Tasman Caravan Park is perfect if you want to relax by the beach and is only 800m from the Devonport ferry terminal.
Driving inland from Devonport, your first stop should be Latrobe, a pretty village full of unique attractions. You can see a live platypus the Platypus Interpretation Centre at the Australian Axeman's Hall of Fame. This town has enticing craft shops, antique stores, and beautiful tree-lined streets; including the Reliquaire, a gift and toyshop to enchant children and adults alike. For the chocoholics, The House of Anvers is a must-stop-and-taste attraction with couverture chocolates, truffles, pralines, fudges and more, including the world's rarest chocolate. For the historians, the Court House Museum tells the story of Latrobe and its surrounding areas since European settlement began in the mid nineteenth century. For the person who likes to experience a little bit of everything, Latrobe is the town for you.
Known for its waterfalls, the city of Burnie is located to the west of Devonport along the coast, and it is a delightful drive with plenty of ocean views. The main natural attractions of Burnie are the Guide Falls, which are best to see in winter or spring, though the Roundhill Lookout is also a fantastic place to be to watch the sunset. Animal lovers should also check out the Little Penguin Observation Centre found at Parsonage point, and is fascinating look at penguins in their natural habitat. But Burnie has so much more to offer than just fabulous scenery and penguins (though we don't think anything really tops penguins). The Cheese Shop sell some of Australia's most loved cheese brands, including the multi-award winning cheeses of Tasmanian Heritage and the sharp and crumbly cheddars of Mersey Valley, all made in the accompanying factory. The Emu Valley Rhododendron Garden is just 8km south of Burnie, and the perfect place to while away a relaxed afternoon, or you alternatively can wander around the Annsleigh Gardens and Cafe. If you would prefer to see someone who is doing something constructive, pop into the Maker's Centre to see artists and craftspeople doing their thing, and that everything from paper making, felting, embroidery, ceramics, weaving, leather-working and painting to making guitars by hand. Burnie has a surprisingly large range of exciting things to see and so, including its own regional art gallery and museum.
These are only some of the highlights of the northern region of Tasmania. This is a region with rich in history; alive with adventures; brimming with fabulous eating places; and every outlook is so scenic you'll think you're living in a postcard. It is just a few hours drive from every other part of the state, so you can easily base yourself in Devonport or Burnie and still see the sights in Hobart or Launceston. So what's keeping you?