The Underground Attraction Of Coober Pedy
The Breakaways near Coober Pedy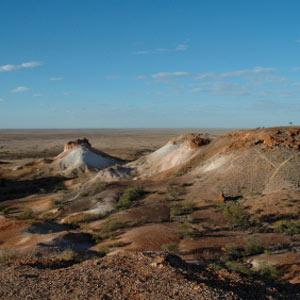 The centre of Australia is an extreme place. The blistering dry sun and the harsh climatic conditions have fashioned a desert landscape in which only the hardiest can survive. Yet there is something about deserts that is very enticing, something that is attracting tourists in ever increasing numbers.
A lot has to do with their stark beauty- weird geological formations and even stranger animals complement the wide open spaces and the sparse shrubbery. The result is an other-worldly place where you cannot help but feel detached from the hustle and bustle of modern day life. The opportunity for solitude these days is becoming rarer, and many are prepared to brave the heat and the conditions of deserts in order to find it. One little South Australian outback town of 3500 people that is a regular tourist fixture is Coober Pedy.
846 kilometres north of
Adelaide
and 645 kilometres south of Alice Springs, a large part of your
campervan hire
holiday in Coober Pedy is going to involve getting to the town. Remember that travelling through the outback requires care and preparation, and should not be undertaken lightly. That said, all the effort will be worthwhile once you reach this unique town. It is known as the opal capital of the world, with over 70 per cent of the worlds opals coming out of its 70 minefields. Eighty years of mining have left the town looking like some kind of lunar landscape, with mine shafts and mullock heaps scattered around its surface.
But its what lies beneath the surface that makes Coober Pedy so unique. Temperatures of over 50 degrees have forced the residents underground, and almost 80 per cent of the population live in houses dug into the ground. These 'dugouts' as they are affectionately known have all the modern facilities you would expect to find in a normal house, including the running water and tiling, and they cost a fraction of the price. The real reason for their existence is that the insulation makes it cooler and more comfortable to live underground! Its a concept you wont find anywhere else in Australia, and it makes the Aboriginal name for Coober Pedy, 'Kura Piti' seem particularly apt, as it means 'White Mans Burrow'.
Its not just houses that are underground, many of the chief attractions of the town are too. The Desert Cave is the most prestigious accommodation in Coober Pedy, and is well worth the novelty of spending a couple of nights in an underground hotel. The also contains the world's only bar and gaming room built beneath the earth's surface, and there is an exhibition of photographs and artefacts that pay tribute to the early settlers to the region and the hardships they encountered. On a similar note there is also an underground art gallery in Coober Pedy, showcasing some of the best works of artists from Central Australia. It also has a dazzling collection of gemstones.
To get a real feel for this town and its opal culture its essential you visit a mine. The Umoona Opal Mine and Museum is one of the premier tourist attractions in town, and your perfect introduction to opals. Here you are able to go on a guided tour of the mine, as well as observe how they cut and polish the stones. There is an interpretative centre that explains the history and process of mining, and award winning documentaries are shown. There is a display of fossils found in the mines, and a genuine dug out home on display. In the retail centre you can purchase from a large range of jewellery and stones- your perfect Coober Pedy souvenir!
One thing you will notice about this town is the friendly and relaxed attitude of the locals. For such a small town there is an incredible ethnic diversity here, with over 45 different nationalities being represented. Thus there is a general vibe of tolerance and acceptance, which quickly rubs off on visitors, who are welcomed with open arms.
Close to the town are some breath taking natural attractions that have featured in many Hollywood movies of the past and present. The Breakaways are a series of flat topped mesas formed over the years, and the Moon Plains are a vast expanse of rocky plains unlike anywhere in the world. Both are just a short drive away in your motorhome. In Coober Pedy there are a number of caravan parks, so accommodation is easy to come by- and remember you can always check into an underground hotel!
Gavin Wyatt