Discover Cairns - Top 7 Caravan Parks
Snorkelling in the Reef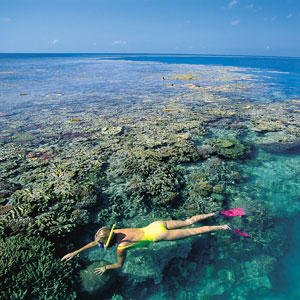 A tropical haven of sandy beaches, palm trees, reef islands and rainforests,
Cairns
is the perfect location for a Queensland holiday. The benefits of travelling by campervan go on and on, the most obvious being you have the freedom to pack up and go on to another location at any time. There are also great savings in accommodation costs, including the added benefits offered by the caravan andholiday parks we have listed below. In no special order, they are our pick of the many fantastic parks available in and around Cairns.
1. Crystal Cascades Holiday Park (Rocks Road, Redlynch 1800 351 376)
Located just fifteen minutes from the city centre, this park is fantastic if you are looking for idyllic surroundings close to many of the surrounding attractions. Popular with bird watchers, there is a shopping centre a few minutes drive away and just fifteen to the beach. Enjoy some family time on the tennis court or just relax and enjoy the quiet. The good news is there are no mozzies or sandflies here so you can relax in peace. Facilities and amenities are excellent and the perfect home away from home for you and your
campervan hire Cairns
.
2. Cairns Coconut Resort (Cnr Bruce Highway & Anderson Road, Cairns 1800 636 622)
You will love it here. The Cairns Coconut Resort is surrounded by almost thirty acres of pristine grounds framed by palms, tropical gardens and rainforest. Located just seven minutes from the city you are still based centrally with plenty of things to do within the resort, including mini golf, tennis courts, volleyball and basketball to name a few. There is also a lagoon with hot and cold spas, waterslide for the kids, table tennis, bike track and heaps more for the kids. This place has every type of activity you could imagine even before you leave the front gates. If you are looking for a child friendly park, this is the one!
3. Cairns Villa Resort and Leisure Park (28 Pease Street, Cairns 1800 644 861)
Another award winning park, you are only four kilometres from the city. There is plenty of room to move with ten acres of gardens, and a saltwater pool the perfect place for a cool down. All the essentials are here, along with a pool table, table tennis and tv room. What appeals to me is the location, so convenient to visit the local attractions or head inland and still come back to a relaxing environment. Very clean and excellent service.
4. Coolwaters Holiday Park (Brinsmead Road, Cairns 07 4034 1949)
Located only seven minutes from the city, you will feel like you are living in an oasis, with a freshwater creek and mountainous views in the backyard. This has my vote for its location and beauty, especially for those really wanting to get away and totally relax.
Set in a tropical rainforest, you might want to stay put for a few days before you start exploring the rest of Cairns. The staff are great, with a guided rainforest walk, pizza night, entertainment, scone morning and lots more. The Kuranda Skyrail is just down the road, so you will be guaranteed plenty of action right on your doorstep. This park is an experience in itself, and thoroughly recommended.
5. Lake Placid Caravan Park (Lake Placid Rd, Cairns 07 4039 2509)
Just north of Cairns and below the Barron River Gorge National Park, the award winning Lake Placid Tourist Park is situated on acres of rainforest and is the ideal escape from the hustle and bustle of the city. A fantastic base for your holiday, this beautiful hideaway offers many walking tracks with birds and wildlife everywhere, and children will love feeding the fish, turtles and ducks at Lake Placid. You are close to popular attractions including the Skyrail and Kuranda Scenic Railway, with Cairns,
Port Douglas
and Cape York all within driving distance.
6. Cairns Sunland Leisure Park (49-61 Pease St, Manoora 1800 786 5263)
Only four kilometres from the city centre, the Cairns Sunland Leisure Park offers a multi purpose destination for those wanting a base to enjoy everything the tropics has to offer. With a fantastic pool, waterfall and wading pool plus a great playground there's plenty for the kids. Enjoy the free barbeque sites throughout the park as well as a stocked mini mart if you don't feel like another shopping trip. This is my pick for being such a central and versatile park.
7. Port Douglas Glengarry Holiday Park (Mowbray River Road, Port Douglas 1800 888 134)
Close enough to Cairns to be worth including, this delightful park is only minutes away from one of the most beautiful beaches in the world, Four Mile Beach. Nestled in spacious palm fringed grounds, the Mowbray River is close enough for a spot of fishing, bird watching or a dip in the resort style pool. This is fantastic for a few days or more enjoying another aspect of the tropics and the beauty of the top end.
Jenny Brewer