Byron To Ballina
Tallow Beach in Byron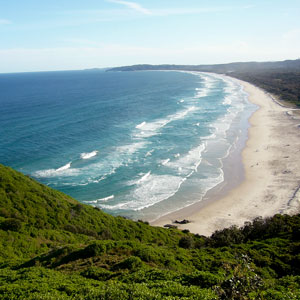 For the traveller who prefers to soak in the scenery and beauty of each mile at a more leisurely pace, the route from Byron to Ballina is perfect. This lifestyle is a combination of relaxation and creativity, with the raw pleasures of sunshine, golden beaches, chatty locals and arty shops a perfect escape. Book a
campervan hire New South Wales
and take off to enjoy this diverse stretch of natural beauty, rolling hills and new age ambience, located only two hours drive from
Brisbane
.
Add idyllic weather conditions to your list of perfect reasons to travel here, with enjoyable sunshine most of the year round. There is the occasional storm which adds to the lushness of this coastal oasis, with plenty of trees, scrub and palms in every direction. This region is a magnet for locals for so many reasons, with international tourists travelling far and wide to experience this Australian oasis for themselves.
What isn't there to see in Byron Bay? A
campervan hire
brings you all the freedom you need to drive straight to the most popular lookouts and sip a cup of tea you have made in your own kitchen. Basing yourself here is easy. With close to ten caravan parks to choose from, you can change views every day if you want to. We recommend the Byron Bay Tourist Park, which is about three minutes from the centre of town. The beach is within walking distance, or there is a fantastic golf course right next to the park.
There are plenty of natural attractions, such as Cape Byron, featuring its famous lighthouse. With numerous, breathtaking walking trails and panoramic views with every step you take, you will need to allow at least a few hours to explore and make the most of your time here. Dolphins are a well loved aquatic treasure up and down the coast, frequenting the coastline of each township as they frolic with the surfers along the warm waters of the coast.
On the first Sunday of each month are the famous markets, so come prepared for a bargain. You will find every type of food, clothing, jewellery and colourful, wacky gift imaginable, and on every corner a massage table just waiting to relieve you of your travelling aches and pains.
Once you have worked your way through the coast and colours of Bryon, enjoy a slow drive south towards Lennox Head, located directly in between Byron and Ballina. This is also a popular destination but with its own relaxed pace, ideal for a visit and stroll on the beach. Whales are often seen on Lennox Headland so stretch your legs and enjoy the coastal views.
Basing yourself in this stretch of coast is easy, with Broken Head Holiday Park in close proximity to Byron, Lennox Head and Ballina. The beauty of this park is that it is on the beachfront, plus it is set in natural bushland. You are really getting away from the city life here.
On your drive from Lennox Head, you will find it hard to pass by the Macadamia Castle, featuring an animal park, rides and activities and train rides for the kids, with yummy bags of nuts and treats to choose from before you leave.
Ballina has plenty to see, including the famous Big Prawn, Naval Museum, Coast Guard Tower and beautiful Richmond River. However most visitors and locals head straight to the beach to enjoy a variety of watersports and leisure activities. If you are a beach and sun lover, you will love Ballina. But it doesn't end there. If you happen to love tea tree oil, make a point of visiting the Thursday Plantation, which is the home of the world famous tea tree products.
Finding a place to stay is easy. Why not head straight to the Ballina Headlands Leisure Park, located only 20 minutes drive from Byron Bay. You have world class beaches, world heritage National Parks and pristine surroundings right outside your campervan doorstep. Walk ten minutes to Boulders Beach which is a popular fishing spot for locals, or further along to Sharpe's beach for a swim.
Wherever you head, the stretch from Byron to Ballina is breath- taking. Your
campervan hire Byron Bay
will give you the freedom to come and go as you choose, and jump from one place to the next if you feel like it, or stay in one park and enjoy day trips. Every traveller is different, which is why a campervan holiday works so well. Come and enjoy the beach and parks of northern New South Wales, you won't want to leave!
Jenny Brewer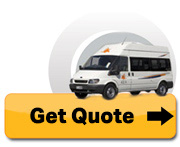 Related Information
First Sun Holiday Park Byron Bay Located on the beachfront at beautiful Byron Bay, First Sun Holiday Park offers you everything Byron Bay is world renowned for literally metres from your cabin, caravan or tent.