Busselton - Treasure Of The South West
Busselton Jetty at Twilight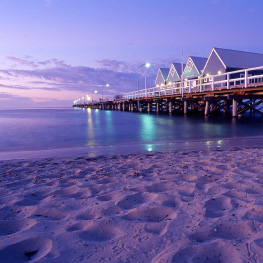 One of Australia's most beautiful treasures, Busselton is rich with history, tourism, culture and natural attractions. This is the ideal destination for your
campervan hire
holiday, perfect as a base for enjoying the ever changing Western Australian coastline and inland to the magnificent Margaret River.
Located just over two hours south from
Perth
, Busselton is the ultimate destination to unwind and enjoy the scenery, including over thirty kilometres of white sandy beaches stretching from tranquil Geographe Bay through to unpredictable Cape Naturaliste. With so many ideal locations to base yourself, you might need to keep your itinerary flexible as there are dozens of fantastic spots to explore in Busselton and surrounding areas.
Any time of year is ideal climate wise, as summer brings blue skies and sunny days, and winter treats you with mild temperatures and cool nights. Spring is a beautiful time to visit with wildflowers scattered up and down the entire region. All colours, all varieties are proudly displayed for anyone who stops long enough to enjoy the kangaroo paws, orchids and acacias.
Once you have settled into your home away from home, choose from a myriad of water sports, including snorkelling, diving, fishing, sailing and swimming. You won't have to look far for fine cuisine, and the seafood has a name for itself up and down the coastline. Everywhere you look there are families soaking in the sunshine, cyclists dodging walkers and joggers, and friendly locals enjoying a chat.
Head to the famous lengthy Busselton jetty that leads to an Underwater Observatory, displaying its world famous artificial reef with every type of tropical fish you could imagine. The kids will be awestruck by the stunning colours and unusual fish all visible through the large viewing windows. This is a definite 'must do' to add to your itinerary when you visit the seaside town of Busselton. The Sandy Bay Holiday Park is just one accommodation choice which has close proximity to the popular tourist spots in the area, including the jetty and observatory.
For a spectacular day trip head south to Cape Leeuwin, where you will find one of the tallest lighthouse's on the mainland. With waves hammering the coastline, untamed winds and endless natural scenery, this is the perfect combination for nature lovers. There are fantastic walking tracks which stretch from Cape to Cape as well as whale sightings from September through to December. Augusta is the closest town just north from the Cape, ideal for holiday makers looking for an escape from the fast paced life, and sporting a fantastic local museum.
When it's time to escape the suns rays, you may choose to travel inland to discover a very different form of beauty. The Tuart Forest is only seven kilometres east from Busselton, yet is one of the last standing forests of its kind. With trees dated over three hundred years old, it's like walking back in time when you discover the various walking trails and enjoy a picnic amongst these living giants.
Head west and you will find the perfect getaway location in the
Margaret River
region. Spend a day or two here to enjoy the vineyards scattered amongst the green rolling hills, or explore a handful of the hundred or so caves hidden like gems in this rich hinterland. For some, just driving off the beaten track and enjoying the spectacular scenery is an adventure in itself, and what better way to explore for days on end than in a campervan!
Head back to the city to enjoy the history of the old Courthouse Arts Centre complete with an historic gaol and art gallery. The Busselton Visitor Centre is the starting point for the Heritage Park and Trail including plenty of famous landmarks. Kids will love the Ballarat Steam Engine and the old churches and historical buildings bring a new perspective to this diverse town.
Busselton offers the chance to unwind and escape the day to day pressures of city living, and also enjoy nature at its best. There is incredible beauty and diversity in this region, with colourful flowers, deep forests, rolling hills and miles of pristine coastline. Start planning now for your next campervan holiday in
Western Australia
.
Jenny Brewer