Beautiful Barossa
Ballooning Over the Barossa Valley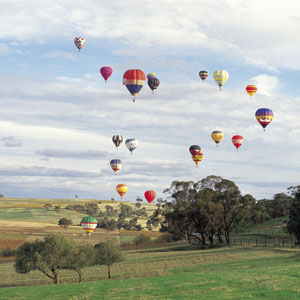 Located close to an hour from the city of
Adelaide
in South Australia, the Barossa Valley is known world wide as one of the most famous wine regions in Australia. You can expect to sample exquisite wines, enjoy all types of local food produce and enjoy the beautiful gardens and vineyards prevalent to this area. It is a beautiful area to visit and stay a while, and with ample camping spots is the perfect
campervan hire
getaway.
With a climate close to Mediterranean temperatures, the rainy season is between April and October, with seasons predictable all through the year. During summer the temperature reaches 35C on average, and winter brings cold days and colder nights.
There are a large number of festivals, events, art galleries and antique shops that will easily fill up your day and are perfect for a relaxing afternoon stroll. Why not jump in a hot air balloon to take in the panoramic views of the valley? There are a number of caravan parks that have shady sites perfect for a relaxing getaway while you visit the region.
What is a beautiful, vineyard peppered valley without a massive festival once a year? The Barossa Vintage Festival is known for its events, food, music and of course, its wine. With such an extensive history of wine-making, some of the best names come from this region. Wolf Blass, Peter Lehmann, Yaldara and Yalumba are some of the more popular names.
With magnificent grounds, the three Chateaus which dominate the valley have to be seen to be believed. Surrounding the Chateau Barossa are over twenty thousand rose bushes which would leave a scent to die for, and the Chateau Yaldara has a cafe perfect for an cosy afternoon tea. The Chateau Tanunda is also offset with a cricket oval and has its own small winery. Stay here for a meal to dine in style and indulge in the scenery, food and incredible architecture.
There is a great view from the lookout Mengler Hill, which is east from Tanunda. There are pretty church steeples punctuating the landscape, and rolling hills and green valleys for miles on end. It is also a great spot to enjoy the sunset. Tanunda is also a great place for food shopping and dining. A great restaurant here is the 1918 Bistro and Grill known all over the valley.
Just down the road is also the Stuhl Conservation Park which is great for the family. These are walking tracks here, and plenty of wildlife such as kangaroos, possums, parrots and lizards.
If you are here on a weekend, you can't miss the Barossa Farmers Market. Held on Saturday mornings, you will feel as though you have just stepped foot inside the home of the friendly locals, as they offer their local produce, wares and wines. It is fantastic for a wander and a closer look at the relaxed way of life in the valley.
There is so much to see and do at the Barossa. Try the Yaldara winery, which is close to Lyndoch and its beautiful lavender farm. South from Angaston, the Yulumba winery is also worth a visit. The Maggie Beer's Farm Shop is a great favourite with the locals and tourists, with plenty of taste testing and produce to tempt any sceptic. With her books and local wines on sale, it is great for browsing and getting to know the locals over a meal.
The Barossa valley is no longer one of
South Australia's
best kept secrets. The word has been out for long enough now that this is by far one of the most enjoyable tourist destinations in the state, with a plethora of wines to suit any palette, wineries that never seem to end, pretty towns dotted across the landscape, and friendly locals that welcome you into their world as you get away from the fast pace of normal life. Enjoy the valley while you can, and there is no doubt you will take some of it home with you until you return.
Jenny Brewer 2007