Amazing Avoca
Fishing is Popular in Avoca Beach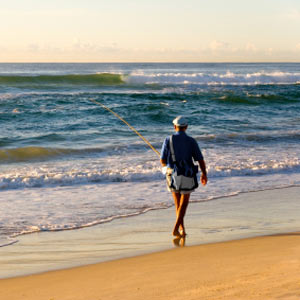 Do you like brilliant blue waters, rugged coastline and long white beaches? Are you looking for bushwalking in national reserves, nestled beside shining lakes? Then look no further than Avoca Beach, located on the Central Coast of New South Wales. Avoca Beach is southeast of Gosford and about halfway between Newcastle and Sydney. Families and tourists of all ages head to the beaches, lakes, lookouts and art galleries to enjoy the remoteness and beauty of this hidden paradise. Drive to the hills if you are looking for some solitude, with only the birdlife to disturb your peace. Hiring a campervan is the perfect way to see this region of immense natural beauty.
Avoca Beach stretches between two rocky headlands, embracing and protecting the beach and providing lookouts over the ocean. To the north of the beach is The Skillion, the most prominent landmark of the region, a tall rocky outcrop jutting out into the ocean and creating a convenient lookout. To the south of the beach is the Captain Cook Memorial Park with its own lookout. The beach is suited to surfers, swimmers and fishing fanatics alike. A rock pool near the Surf Life Saving Club forms a safe haven for young children. Avoca Lake, situated just behind the beach, is a recreational still-water retreat with pleasant walks and picnic areas.
When you've had enough sun, there are other great activities to pursue. Located just outside the main Avoca strip, Like Minds is a contemporary space of original blended coffee, fresh & sustainable foods and a unique collection of art & collectables. Like Minds have also developed after hours workshops for photography, life drawing classes, book clubs, meditation and yoga. The Mousehole also offers gifts, crafts and local pottery for sale. The Avoca Picture Theatre is a family-run boutique cinema full of character, which holds special events as well as showing the best in blockbuster and art-house films.
The Avoca Beach Caravan Park is easily accessible and only a few streets from the beach at The Round Drive. The Palms at Avoca also offers powered sites for campervans. Head further north to The Entrance, which is host to thousands of tourists flocking to its waterways, restaurants and diverse accommodation parks. You could base yourself here and explore Avoca, Terrigal and the surrounding coastline at your leisure, or visit as a day trip from Avoca. If you keep heading north, you will end up in Gosford, the NSW Central Coast region's largest city. For many, the ultimate holiday destination is a combination of sun, surf and beautiful surroundings. You have all of those ingredients and more at Avoca Beach and the adjoining coastline. The Central Coast offers natural beauty and wildlife which is equal to anywhere else, and once you have visited, it will be hard not to want to come again.