Top 21 Act Hotspots
Cherry Blossom Trees in Kings Park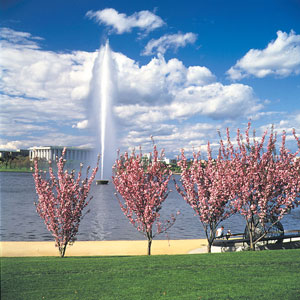 1. Parliament House
Parliament House, Australia's political centre and Canberrra's most famous landmark, is a must see for all tourists to the capital city. Centrally located, its immaculately tended gardens are dotted with amazing architecture and famous artworks depictive of the political arena. Regular guided tours give you a chance to view the inner workings of the government, and the Queen's terrace cafe gives you the opportunity to relax and enjoy the scenery. Kodak opportunities abound, and don't forget the patriotic snap by the flagpole!
2. National Museum of Australia
This
Canberra
highlight has many attractions the most distinct being its unique exhibitions which showcase the nation and culture of Australia. Interactive displays, live performances and abstract architecture vividly bring to life the stories of famous and ordinary Australians. The colours and wonder of so much creativity in one space will capture your heart and compel you to stay longer. This is one of the newer Canberra museums, and is certainly worth the visit.
3. National Gallery of Australia
The picturesque shores of Lake Burley Griffin provide the perfect setting for the National Gallery, which houses one of the most extensive and choice art collections in Australia. A wide collection of Aboriginal artefacts, famous 20th Century pieces, European and Asian art and numerous sculptures in the gardens provide perfect viewing fodder for a leisurely afternoon. A large gallery dedicated to Indian art is guaranteed to capture your senses, and free lectures will satisfy the information hungry while the gallery restaurant will satisfy the plain old hungry.
4. National Zoo and Aquarium
This is the only Zooquarium in Australia, and its diverse range of animals and marine life will captivate the young and old. You will need at least a day to explore all of natures treasures on exhibited here, but be sure not to miss the big cats display, the cheeky monkeys, giraffes, snakes, bears and of course the shark tank. Official guides teach you about the animals and their origins, and the strong emphasis on conservation makes this a powerful educational experience for the whole family.
5. Questacon
Located on King Edward Terrace, Questacon has numerous interactive science and technology exhibits, making it an exciting family outing. There are over two hundred displays ranging from science shows, funparks and earthquakes to aboriginal bushcraft and animated predators, and puppet shows will keep the young tots entertained. The kids will love this one and it will be a great
family outing
.
6. Australian War Memorial
Located at the base of Mt. Ainslie the Australian War Memorial is home to one of the best collections of war memorabilia in the world. It's galleries, sculptures and research centre have turned it into one of Australia's greatest treasures. Classic aircraft such as the Mustang, Mosquito and Kitty Hawk are on display at Aircraft Hall, and there is also a Hall of Valour dedicated to those who received the highest awards of bravery. Interactive displays and historical accounts of the First and Second World Wars ensure our Australian heroes will always be remembered.
7. Australian Institute of Sport
Sports lovers and athletes will not want to leave the Australian Institute of Sport. Top athletes act as your guides, filling you in on everything you wanted to know about training, major events and life behind the scenes. Sportex is where you will find interactive challenges such as a cycling race, rowing, soccer, rock climbing and basketball. The pool, spa or tennis courts are open to the public if you need to unwind. If you\'re not a sports lover when you arrive, you will be when you leave!
8. National Botanic Gardens
In these Gardens almost seven thousand species of native plants (Australia\'s largest collection), surround the trails that lead to rainforest plants, desert species, mountain natives and rock gardens that will leave you breathless. Located at the base of Black Mountain, you will love Rainforest Gully, the Mallee Shrublands and the Eucalypt Lawn featuring some of the most picturesque gardens and foliage in Canberra. A must see for all plant lovers.
9. National Library and Amphitheatre
Booklovers beware! You will probably never leave once you discover Australia's biggest reference library, located near Lake Burley Griffin. Seven reading rooms offer maximum privacy, and an exhibition gallery hosts various events which are worth checking out. An on site restaurant will fuel your relaxing day of reading, and an Australian book shop gives you the chance to take your work home.
10. High Court of Australia
A visit to the High Court is essential if you are in Canberra. This seven storey building has three courtrooms and a public hall, the walls of which are beautified with stunning murals illustrating the Growth of Australia and it's constitution. You might even get the chance to sit in on the high court sittings which are open to the public. Located close to pretty Lake Burley Griffin and with a waterfall as one of it's chief features, the High Court prefectly combines the serious and the scenic!
11. Brindabella Ranges
One of Canberra's most well known parks, the Brindabella Ranges are only accesible by 4WD. There are day trips available which allow you to experience incredible animal and bird life, alpine mountainous scenery and rare vegetation such as the alpine tea tree. Covering over twenty thousand square kilometres stretching to the Snowy Mountains, this hidden treasure is screaming to be explored.
12. Snowy Mountains
The Snowy Mountains are a relatively short drive from Canberra in your
campervan hire
, and worth every kilometre. Mount Kosciusko, Australia's highest peak, towers above the range which has been made famous by a number of great Australian movies. Breath taking panoramic views are complemented by a wide range of activites, such as horse riding, fishing, bush walking and snow skiing. The wild brumbies that roam the mountain slopes will make you feel completely detached from civilisation.
13. Wee Jasper Valley
Known for its limestone cave systems, Wee Jasper is rural Australia at its best, and is close enough to Canberra to make a day trip of it. Pass your morning fishing for trout or taking dips in the river before heading into the village for lunch. If you are after some adventure, make sure you join one of the many tours into Wee Jasper Caves. There is cave to cave abseiling involved, which is well worth the adrenaline rush to find some incredible underground caves.
14. Lake Burley Griffin
Canberra's most well known lake is surrounded by some of Australia's most famous landmarks. Bikes and skates are available on hire to enjoy the 35km shoreline with. Those interested on getting water bound can hire a boat from the Acton Park Ferry Terminal just north of the lake, and thrillseekers can go for a ride on the Captain Cook Memorial Jet. For a walk down history lane, Blundell's Cottage is found further east and is open to tourists all week. Pack a picnic lunch and enjoy the expansive beauty of this lake.
15. Cockington Green Gardens
Perfect for all ages, you will not find an experience such as Cockington Green Gardens anywhere else. This is a display of miniature buildings carefully constructed within landscaped miniature gardens. The whole family will be mesmerised by the attention to detail and architectural genius involved in building these unique, tiny gardens. Enjoy the English Village, Dolls House, Steam Train Ride, Garden Café and International Display. Who knows, you may be inspired to start your own miniature designs!
16. CSIRO Discovery Centre
Focusing on science and technology, this centre has over 18 interesting and stimulating exhibits. There is an energy exhibit, biodiversity display focusing on conservation, 3D presentations, face recognition exhibits, haptic workbench, research into gene technology and an interactive laboratory. You will look at science in a new way after visiting this impacting attraction, and your kids are sure to benefit from its educational impact.
17. Tidbinilla Nature Reserve
With plenty of walking tracks, activities and rolling hills, Tidbinilla is only forty five minutes from Canberra. Wildlife such as wallabies and emus run wild, and there are beautiful views, especially from the popular Mt Stromlo. Make sure you visit the Canberra Deep Space Communication Complex, located in the Murrumbidgee River Valley. This complex is a part of the NASA's Deep Space Project and is open to tourists year round. There is everything for the space lover - movies, interactive displays, and even a piece of moon rock. This is the ideal destination for a day trip.
18. Namadgi National Park
A fantastic getaway location, Namadgi can be found north of the Australian Alps. There are plenty of well marked trails for all fitness levels, and you can pack a meal and enjoy the tranquility of the mountains at one of the picnic spots. Horse riding, fishing, snow skiing and abseiling are popular activities, and there are a number of peaceful camping grounds if you want to stay a few extra days with your
campervan hire Sydney
. The Namadgi Visitor Centre Visit offers theatre productions, and is a wealth of information about the park.
19. The National Portrait Gallery
You have the choice of two locations to visit at this unique attraction, Commonwealth Place or Old Parliament House. As they are only five minutes away from each other it is easy to see both if you wish. It is very inexpensive to visit ($5 for a family) and you will discover some of Australia's most historical portrait and photographic collections here, including Ned Kelly's famous mask! There are many international and national exhibitions held here so check before you arrive to time your visit well.
20. Old Bus Depot Markets
What is a trip to any city without a trip to the local markets? These are Canberra's most popular, visited by just as many locals as visitors and held every Sunday. You will find all selections of local produce, handcrafts, jewellery, toys, books and much more, and the uniquely local artists always draw a crowd. To reach the markets just find Wentworth Ave which is very close to central Canberra.
21. Black Mountain
For that perfect photo opportunity, make sure you visit one of Canberra's most well known lookouts for a bird's eye view of Parliament House, the Australian Institute of Sport and Lake Burley Griffin. Visit the Tower which will reward you with a panoramic view of the city and also offers a fantastic restaurant. There are also a number of interesting walking trails to choose from, where local wildlife is often sighted.
Jenny Brewer