A Campervan East Coast Adventure - Chrissy's Tale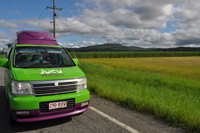 The East Coast of Queensland is home to some of the world's most incredible natural wonders: Fraser Island, The Whitsundays and who can forget, The Great Barrier Reef. Its cities and towns are among Australia's most friendly and inviting, and the vast distances between them makes the East Coast the perfect destination for a campervan road trip.
As a young, budget traveler I chose to embark on this adventure with a Jucy campervan. Following the advice of the friendly staff at Discovery Campervans, I found Jucy to offer the best price for my needs and budget. Booking with Discovery was simple because their stress-free insurance option took all the hassle out of those costly little extras.
We hired the Grande, the newest and biggest of the Jucy campervan range. The Jucy crew members at the Brisbane depot were friendly and helpful and gave us a comprehensive tour of the Grande and all of its features. This vehicle was perfect for two of us, but could also have easily fitted 3 or 4. I chose to sleep in the cosy bed up the top; it was a little like camping, but in comfort, with a fitted DVD player and all.
The campervan was extremely easy to drive and I got used to it almost immediately. It was smooth to drive through the city, and drove well on the open road.
Our first stop was Australia Zoo; where crocs rule! After spending a day getting up close to the cuddly koalas, catching the croc show and watching the cheeky elephants, we headed to our first overnight destination in Noosa. From here, Fraser Island was calling our names and here we parked our campervan in Hervey Bay before taking a barge over to the world's largest sand island.
Fraser Island is an incredible place to visit and offers experiences you will remember for a lifetime. After a 2 day safari we were sad to see it end, but a surfing lesson in 1770 was enough to keep spirits high.
The unpredictable Queensland weather wasn't too kind to us on the road between 1770 and Rockhampton, with roads closed due to flooding and deep potholes making for a bumpy drive. Avoid these if you can, some can be quite dangerous if you hit them too fast!

We found a fantastic beach in Emu Park and parked the camper there for the night, free of charge. A beach sunrise and cold shower awaited us in the morning before the long stretch of road to Airlie Beach. The drive from Marlborough to Mackay was a tough (and rather boring) feat, but a bunch of cheesy mix CDs got us through it.
Airlie Beach lived up to our expectations and beyond. A notorious party town we soon discovered this place never sleeps. Home to a fantastic nightlife, glorious beaches and bustling marinas, this is a town you just have to visit.
We were even further amazed when we embarked on a 2-night cruise on the beautiful Whitsunday Passage. Saying goodbye to our campervan for 2 days, we parked it in the marina carpark for a tidy sum of $8 per day; not too bad for a secure area.
The three days that followed were simply magical. Filled with snorkeling on the island reefs and feeling the white silicon sand through our toes at Whitehaven Beach, we didn't want it to end.
Our adventures of North Queensland continued as we stopped in the intriguing city of Townsville. From here, our last stretch of road led to Cairns, and opting out of the coastal route, we headed inland through the remarkable Atherton Tablelands.

This route is perfect for travellers wishing to escape the fast paced life and simply take it easy. Magnificent waterfalls, fabulous wineries and great little dairy farms with free cheese tastings are sprinkled throughout this incredible countryside. You could literally spend days exploring every nook and cranny of this amazing hinterland, and a campervan will give you the freedom to do this.
Time restrictions forced us to the city of Cairns, where a cruise on the Great Barrier Reef awaited. This reef is like none other in the world - quite literally. Colourful coral stretches as far as the eye can see, and fish of every size and shape inhabit the caves and coves that the coral hides. Snorkeling on it was the experience of a lifetime, and the undeniable highlight of our East Coast adventure.
Our trip drew to a close when we returned our Jucy campervan to the Cairns depot. Here we were met by one of the friendly crew members, who kindly offered to give us a lift to the airport. We sadly said goodbye to the Grande, disheartened to see our home for the last two weeks go.
A campervan truly was the best way to explore Australia's sunshine state. It gave us the freedom to explore the coast's hidden beaches and head off the beaten track to uncover a world of intriguing natural attractions. There really is no other kind of holiday quite like it!
Christine Barton