Tasmania's north east is characterised by colour - it's something you cannot escape in this region, not that you would ever want to. The red and fertile soil of the wide valleys supports the bright green grass of the rolling meadows. Campervan Hire Tasmania in the summer months you will be treated to the fields being taken over by the multi-coloured seas of native flowers. Amongst them brightly coloured vegetable plantations make up a lot of the farmland, and these merge with the dark green of the pine forests that flourish on the higher ground.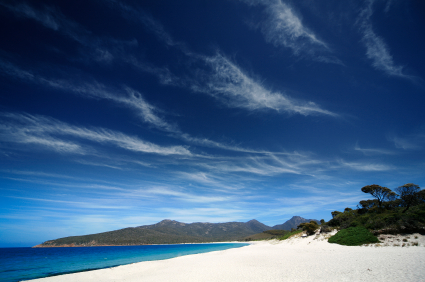 The largest town on the east coast, and a great place to tour from in one of our camper vans, is St Helens. Such is the popularity of this town its population is said to increase tenfold over the summer months. It is 166 kilometres east of Launceston, and the scenic drive is worth every second. The hills around St Helens and the warm ocean currents have produced a micro climate of warmth and sunniness unsurpassed in Tassie, and helps explain the popularity of this town.
Essentially a fishing village, St Helens is situated on the shores of scenic Georges Bay, and the towns fishing fleet is moored here. The beaches around the bay consist of high dunes which provide the perfect natural playground for the kids, or a great place to lie and soak up the sun on a campervan rental holiday.
Swimming and surfing are popular pursuits, and the fishing up the coast is second to none. There is plenty of accommodation for campervans, and tourists are particularly well catered for in St Helens. If bushwalking is your thing then St Helens point will be right up your alley, as it offers an endless amount of scenic walks.
So if St Helens or anywhere in Tasmania sounds like your perfect holiday, why not use the planner below to check the camper vans on offer?