Do you fancy the freedom of a Campervan Hire Tasmania holiday but could do without the long distances behind the wheel? Can you picture stunning coastlines, rugged mountains, lush forests and beautiful National Parks, all just short drives apart from each other? If you can, then chances are you are picturing Tasmania.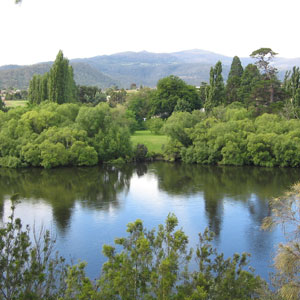 Unspoilt and historical, this is the ultimate destination for a rewarding and relaxing campervan rental holiday. The hardest decision is deciding where to go, and when you are making this choice take into consideration the town of New Norfolk and the tranquil Derwent Valley.
New Norfolk is just a thirty minute drive from Hobart, but the rolling green countryside of the Derwent Valley that it is situated in makes it feel like you are in a different world. Ideally you can base yourself in the town, and from there explore the valley and the other picturesque hamlets that lie nearby. There are plenty of accommodation options for you and your campervan rental in New Norfolk and nearby, and the friendly locals will make you feel like you are still at home.
Essentially a historic town, New Norfolk is home to a number of beautifully preserved heritage buldings. The Anglican Church of St. Matthews was built in 1823, and is the oldest of its kind in Australia. Its intricate stained glass illustrations have fascinated tourists for decades now. Tourists are also intrigued by the Oast House, which was a working Oast House from 1867 to 1969. It is now a museum and a gift shop, and a family run tea room offers you the chance to refresh yourself before continuing on your way.
For a memorable experience with nature, take the short drive to Mt. Field National Park. Here the trees and ferns seem to grow taller than anywhere else, and the lush vegetation and moss covered floors create a mystical and enchanting feel. Be sure to visit some of the many waterfalls in the park, and enjoy watching the trout swim lazily in the cold creek below them.
If New Norfolk sounds appealing, then why not check out the vehicles on offer with the planner below for Camper Hire Tasmania?