Trying to choose where to go and what to see in Tasmania can be an intimidating prospect, as there is just so much on offer on this island! Planning your trip can also be half the fun, trying to picture what each place is like and trying to decide which ones you will enjoy the most can be a fulfilling experience topped only by actually going to the places themselves.
A Campervan Hire Tasmania holiday would not be complete without a visit to the historic town of Port Arthur, and the stunning Tasman Peninsula it is situated on.
Port Arthur was initially a penal settlement, and was built largely by a prison labour force. Its long history and rich heritage have helped contribute to its standing as a premier tourist destination, and an important relic of early Australian settlement.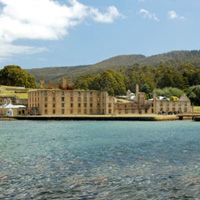 The most visited attraction here is the Historic Site, which is a standing tribute to our convict past. Here you can wonder through the preserved ruins of the old penitentiary, hospital, churches and living areas where the convicts used to live and breathe. Guided tours are available and there is a museum on site as well. For a spooky and ethereal experience take a guided tour through the site at night. Ghost sightings are unlikely, but the feel of the old buildings under the cover of darkness is a chilling prospect nonetheless! For something similar head on a tour to the Isle of the Dead for a tour of the headstones of over a thousand convicts and free men.
For a break from this journey into the past jump into your camper rental and explore the Tasman Peninsula. Typified by high rocky cliffs that provide amazing ocean views, the beauty of this region contrasts with the dark convict history that will make your memories vivid and important. The sculpted coastline has plenty interesting geological features for you to visit, including caves, blowholes and bizarre rock formations, and there are any number of bushwalks and tracks you can stretch your legs on. There are accommodation options for camper vans all over the peninsula, so bunk down for a couple of nights and enjoy this special part of Tasmania.
If a tour of Port Arthur sounds appealing to you, then use the planner below to check the campervans on offer over your travel dates.