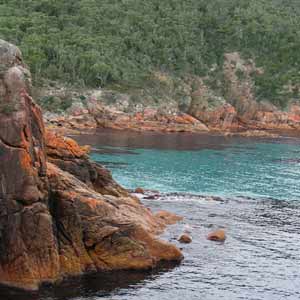 The east coast of Tasmania is home to pristine beaches, stunning views and a rich history, and as such should definitely be on your bucket list as a holiday destination. Coles Bay is 192 km northeast of Hobart and 209 km southeast of Launceston, and the town closest to Freycinet National Park. It is ideally situated to be your base for exploring the east coast.
The hamlet of Coles Bay sits at the foot of the pink granite mountains known as the Hazards. Using Coles Bay as your central point, there are plenty of places to see and things to do in the park next door. Coles Bay, for its size, has the best accommodation on Tasmania's east coast, with options including caravan parks with powered caravan, motorhome and tent sites, and unpowered tent sites. It also has some superb eateries, like the Freycinet Marine Farm – where you can oysters that were still in the ocean that morning. The Cole Bay area is also a foodies' and wine buffs' paradise.
The Freycinet National Park has an awe-inspiring mix of rocky cliffs and white beaches, and a vibrant, colourful hinterland. Local wildlife thrives in their natural environment, and the park rangers can offer plenty of activities aimed at all age groups. Due to the popularity of this park it can be difficult to secure camping over the busy periods, so be certain to book ahead. There are fees for camping.
Scenic drives and bushwalks are well marked, and places of interest such as lookout points are easy to get to and well sign posted. A good starting point is to drive to Cape Tourville. The 6.4 km dirt road is safe for conventional vehicles, and a breeze for 4WD vehicles. If you prefer to hike, the bushwalking tracks are well maintained and are a broad range of day walks available. The view from the top of Mount Freycinet is spectacular, looking out to Schouten Island. The most famous scenic spot in the park is Wineglass Bay. It is a perfect curve of white sand with the pink humps of the Hazards in the background.
If the east coast of Tasmania sounds appealing to you then why not use our planner below and check out the campervans on offer for travel dates.