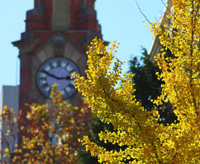 On an island as beautiful as Tassie, its pretty difficult to pinpoint anywhere as the most attractive area. But if asked to, many would pick the city of Launceston and its lush surrounds as their favourite spot in this state that is famed for its tall forests and deep lakes. For an amazing Tasmanian holiday, you can't go wrong with picking up one of our campervans, basing yourself in Launceston and touring its fresh and invigorating surrounding regions. A climate similar to the one in the South of France means that much of the year is pleasant here, and this coupled with the friendly locals will make your stay refreshing and enjoyable.
Launceston is the second largest city on the island, and much of its charm lies in its old world appeal and its established, historic feel. Known as 'the garden city', the streets are lined with seasonal trees that bloom in the summer months providing an amazing array of colour. Its located on the confluence of the Tamar and South Esk rivers, and these waterways add to the attractiveness of Launceston. You can go on sunset tours down these rivers that provide you with glimpses of the city and its surrounds that you will not normally see, and then top off your day in one of the numerous restaurants and bars that the city is famous for. Read this article of ours for more ideas on what to do in Launceston.
Launceston is known as the hub of the Tamar Valley, referred to as 'The Valley of the Senses'. This rich and fertile valley is famed worldwide for its wine produce, so jump into your campervan and head to the numerous cellar doors to purchase some world class wines. If your not a wine buff then there is still plenty to keep you entertained. A two hour drive will take you to Cradle nMountain, a rugged mountain landscape covered in thick rainforest and divided up by icey streams full of the famous Tasmanian trout. If the two hour drive doesnt't appeal to you, then stick closer to home and visit the Tamar Valley Wetlands, which are a haven for birdlife of all descriptions. Take the three kilometre walk along the boardwalk to Tamar Island, and enjoy the birds and wildlife along the way. For something completely different, go to Beauty Point on the West Tamar and visit the only seahorse farm of its kind.
Tasmanian bushwalks are world famous, and there are plenty of opportunities to indulge in these in the Tamar Valley. The Launceston Lakes provide some stunning scenery, and the opportunity to partake in some fly fishing. To get in touch with the history of the area, go on the Launceston Historical Walk, which will take you past heritage buildings and other places of historical significance.
So if a Tasmanian campervan holiday to Launceston sounds appealing, why not use the planner below to check out the campervans on offer?