Cairns to Brisbane in 7 Days
Day 1: Cairns to Mission Beach (140kms - 2 hours 10 mins)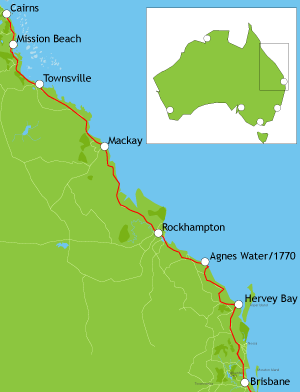 Mission Beach is a Queensland coastal destination that is known for its close proximity to the Great Barrier Reef, stunning tropical rainforest and some of the east coast's best beaches.
An ideal destination to take part in holiday activities like snorkelling, diving, bushwalking, shopping and exploring, Mission Beach is a must-see for any tourist seeking the best of Australia's beaches.
One of the most popular attractions in these parts is the well known, Dunk Island. From South Mission Beach, water taxis and launches operate daily from Clump Point to the Island, which is situated 20 minutes off the mainland. Dunk Island is a rainforest island paradise located within the Great Barrier Reef and is a must-see while in the area.
Where to Stay:
Beachcomber Coconut Caravan Village
This tourist park
is a paradise right on the beach, offering a tranquil rainforest setting, with striking views of Dunk Island. A wide range of powered sites are available, and with the added bonuses of a tennis court, resort-style pool and TV and games rooms, you are guaranteed to enjoy your stay here.
Don't Miss:
Paronella Park
Experience the wonder of
Paronella Park
and you will discover the dream of one man, turned into a reality. This park was inspired by Spanish castles and boasts dazzling waterfalls and exquisite rainforest settings, making it one of the state's most frequented destinations.
Other Attractions:
Sky Dive Mission Beach
Begin this adventure of a lifetime with a scenic flight over the area's amazing tropical rainforest and sections of the Great Barrier Reef. Enjoy these remarkable views from an entirely different point of view as you throw yourself out of the plane and glide safely back to earth, all while absorbing the stunning coastal setting that makes this area so breathtaking. (www.skydivemissionbeach.com.au/)
Day 2: Mission Beach to Townsville (236kms - 3 hours 15 mins)
Considered the unofficial capital of North Queensland, Townsville is a lovely Australian city that boasts some of the state's most intriguing attractions. Another fantastic aspect of the city is its ability to retain its elegant Victorian architecture. In the suburbs you will find fine examples of the 'Queenslander' style houses that were built with timber and boast wide verandas.
Where to Stay:
Walkabout Palms Townsville
Boasting unbeatable views of Townsville's tallest mountain, Mount Stuart, this Big 4 holiday park is the ideal place to stay while visiting Townsville. Set close to Strand Beach and Magnetic Island, this park offers first class facilities and a recreational atmosphere that is unsurpassed. (http://www.walkaboutpalms.com.au OR www.big4.com.au)
Don't Miss:
Reef HQ Aquarium
Reef HQ is the world's largest living coral reef aquarium, and is widely visited by tourists from far and wide each year. It offers the perfect introduction to the Great Barrier Reef, with its brilliant colours, shimmering waters and abundance of bright and lively marine life. (www.reefhq.com.au/home)
Other Attractions:
Museum of Tropical Queensland
If you are seeking to discover some of Townsville's natural history, archaeology and history, the best place to do it would have to be the Museum of Tropical Queensland. Housing artefacts from the HMS Pandora, this is a great place to discover some of Australia's marine past and get a taste of what times were like in days gone by. (www.mtq.qm.qld.gov.au/)
Day 3: Townsville to Mackay (386kms - 4 hours 57 mins)
Mackay is a Queensland city surrounded by lush green cane fields and bisected by the broad Pioneer River. The best way to discover what it has to offer is to take a stroll along the Heritage Walk, which will introduce you to several National Trust structures. It is also worth crossing the river to explore the city's northern section, the stunning harbour, the multi-million-dollar marina development and white sand Harbour Beach. Other popular options include taking a cruise to Brampton Island or the Whitsunday Islands, and the scuba-diving spots off Credlin Reef.
Where to Stay:
Andegrove Van Park
Relax a little when you visit the Andegrove Van Park, located in central Mackay. This park is unlike most Australian caravan parks, as it offers a relaxing atmosphere and tranquil tropical setting that truly make you feel like you are on holiday. (www.andergrovepark.com.au/)
Don't Miss:
Artspace Mackay
Discover the arts and culture of the Mackay region with a visit to the Artspace gallery, which is located right in the heart of town. This art gallery has hosted many travelling national and International exhibitions and is the hub of the city's cultural activity. (www.artspacemackay.com.au/)
Other Attractions:
31 Beaches
It sounds like a lot, but it is true that Mackay is home to some 31 beaches. Take some time to discover at least a few of them and either relax by the calming waters, take a dip, try your luck at surfing or simply work on your tan.
Day 4: Mackay to Rockhampton (336 kms - 4 hours 13 mins)
Nestled on the banks of the Fitzroy River, Rockhampton is a rural Queensland city that offers a wealth of fun and exciting places to visit. Boasting over 300 days of sunshine per year, Rockhampton is a city that incorporates coastal and rural life to provide a pleasant blend between the two and offering the perfect Queensland destination for any holiday.
Where to Stay:
Discovery Holiday Parks
Set on 10 acres of tropically landscaped gardens, with nature trails and tranquil water features, you'll feel like you're in a rainforest when you stay at
the Discovery Holiday Park in Rockhampton
.
Don't Miss:
Rockhampton Zoo
Home to a wide variety of animals, the Rockhampton Zoo is a great attraction for any family fun day out. This is a place where wildlife is at its best as it is home to animals such as koalas, kangaroos, wombats, dingoes, snakes and crocodiles, ensuring there is something for everyone. (www.rockhamptonzoo.com.au/)
Other Attractions:
Kershaw Gardens
These stunning gardens represent the Australian bush at its best, offering a more relaxed and less formal environment to traditional botanical gardens. Enjoy a family picnic in the beautiful grounds and soak up the splendid colonial architecture, lush rainforests and sprawling waterfalls. (www.kershawgardens.tripod.com/)
Day 5: Rockhampton to Agnes Waters & 1770 (231 kms - 2 hours 59 mins)
Agnes Waters and 1770 are towns known for many things but perhaps none more so than for relaxation. Home to unspoilt beaches, untouched coral reefs and a serenity that is unsurpassed by any other Queensland town, 1770 and Agnes Waters cannot simply be passed through.
Where to Stay:
Captain Cook Holiday Park
Highly regarded as a natural paradise, the Captain Cook Holiday Park is undoubtedly the best place to stay in town. Boasting an award-winning restaurant and bar, this holiday is perfect for couples and families alike, offering first class facilities and great sites to park a campervan on. (www.1770holidayvillage.com/)
Don't Miss:
Lady Musgrave Island
One of the Great Barrier Reef's most talked about highlights, Lady Musgrave Island and Lagoon is full to the brim with colourful coral, magnificent marine life and crystal clear, turquoise waters. Board the Spirit of 1770 and you will be transported to a whole new world that will simply take your breath away. (www.spiritof1770.com.au/)
Other Attractions:
The Larc
Embark on an amphibious adventure when you take a ride on the Larc, arguably one of the area's most recognisable icons. Taking you along the coastline of the Eurimbula National Park right up to the Bustard Head Light station this is an adventure that the kids are sure to love. (www.1770larctours.com.au/)
Day 6: Agnes Waters & 1770 to Hervey Bay (250 kms - 3 hours 46 mins)
Named by Captain Cook in 1770, Hervey Bay is made up of numerous tiny townships, and is the gateway to Fraser Island. Considered one of the best places in the world to spot humpback whales, the area has numerous outdoor recreational opportunities, and a plethora of caravan parks.
Where to stay:
Fraser Lodge Holiday Park
Located in Hervey Bay just a short walk to the beach, Fraser Lodge features two swimming pools, a tennis court, two camp kitchens, a game room with televisions, Internet access, spa, tour desk with booking services, and turtle and duck watching at the Sanctuary Dam. Choose from couple's retreats, spa villas, two bedroom villas, holiday units, studio units, ensuite cabins, ensuite sites, powered sites and unpowered sites. (www.fraserlodge.com.au)
BIG4 Point Vernon Holiday Park
Located just outside of Hervey Bay, the Point Vernon features a library with television and Internet, a saltwater swimming pool, children's playground, tour desk with booking services, and camp kitchen. Choose from ensuite and park cabins; the park also has drive-through sites. (www.pvhp.com.au OR www.big4.com.au)
Don't Miss:
Whale Watching Tour
Every year from July through November, Hervey Bay is home to thousands of migrating humpback whales. More than 20 companies operate whale-watching tours out of Urangan Boat Harbour. You can choose full-day, half-day, and three-quarter-day tours. Check with the Whale Watch Industry Association of Hervey Bay for more information.
Other Attractions:
Hervey Bay Historical Village & Museum
Step back in time as you explore the 19 buildings that make up the Hervey Bay Historical Village & Museum. Thousands of artefacts date back to the 1800s, and the site includes a church built in 1910, a railway station built in 1920, a slab cottage built in 1900, and a school built in the 1800s. Some of the buildings are fully furnished. On Sundays you can see a demonstration from a blacksmith and wood turner.
Fishing Off of the Scarness Esplanade
Hervey Bay is also well known for fantastic fishing opportunities. You can hire a fishing charter, but if you simply want to put a line in for a few hours, make your way to the Scarness Esplanade. About 18 km long, the Esplanade has numerous jetties perfect for fishing.
Day 7: Hervey Bay to Brisbane (291 KM, 4 hrs 41 mins)
Brisbane is the capital of Queensland and Australia's fastest growing city. Located on the Brisbane River, between the Great Dividing Mountain Range and Moreton Bay, Brisbane is a lush city with spectacular gardens and wonderful beaches. Brisbane offers visitors a wealth of sightseeing and dining opportunities, and you will need at least a full day to explore cultural and historical landmarks in Brisbane, and perhaps do some shopping at one of the outlet centers in and around the city.
Where to Stay:
BIG4 Brisbane North side Caravan Village
Located about 12 km from the heart of Brisbane in Aspley, the BIG4 Brisbane features a well-equipped recreation room with an Internet kiosk, a swimming pool, tennis courts, golf putting green, and laundry facilities. Guests can easily walk to a nearby shopping centre and to public transportation into Brisbane. Choose from self-contained, air-conditioned villas and cabins, all of which include kitchens, telephones, televisions, and toilets. (www.caravanvillage.com.au OR www.big4.com.au)
Gateway Village Resort
Located about 16 km south of Brisbane in Rochedale, the Gateway Village features a recreation room, tennis court with floodlights, swimming pool, children's playground, laundry facilities, landscaped gardens, and Internet kiosks and wireless throughout, camper's kitchen, and free video games. Buses run from the resort into Brisbane and to the major regional shopping centres. Choose from one- to three-bedroom villas, and full-serviced, powered sites. (www.gatewayvillage.com.au)
Don't Miss:
Lone Pine Koala Sanctuary
Located just outside of Brisbane in Fig Tree Pocket, the Lone Pine Koala Sanctuary is home to over 130 koalas. Stop by on the way to your accommodations near Brisbane, and you can enjoy some actual koala cuddling, feed kangaroos from your hand, and see parrots, kookaburras, emus, wombats, a Tasmanian devil and an Eastern water dragon! You can have your picture taken with a koala; eat at the on-site restaurant or in the picnic area. (www.koala.net)
Other Attractions:
St. John's Cathedral
Under construction for the past 100 years, this 19th century Gothic-Revival cathedral was designed in 1888 and features the only stone vaulted ceiling in Australia. Take the Stained Glass Tour, watch as masons cut stone using medieval methods, and see more than 200 needlepoint cushions hand-stitched by art students. www.stjohnscathedral.com.au
The Queensland Cultural Centre
Situated on the banks of the Brisbane River, the Queensland Cultural Centre is a series of buildings celebrating the arts. Visit the Queensland Arts Gallery and the Queensland Gallery of Modern Art (www.qag.qld.gov.au), both with Aboriginal collections. Also in this arts complex is the Queensland Performing Arts Centre (www.qpac.com.au), where you can take a tour of the four separate theatres, and backstage areas. The Queensland Museum (www.qm.qld.gov.au/) is the place to see fossils, models of a blue whale and dinosaurs, and even a German tank from WW1.