Lets Go Campervans & Motorhomes
About Lets Go Motorhomes
Lets Go is backed by Jayco, Australia's largest manufacturer of recreational vehicles. They have stylish vehicles that feature modern kitchen conveniences, super comfortable bedding and plush seating with enough room to relax and unwind.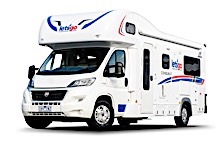 Depot Locations
Adelaide
Brisbane
Cairns
Melbourne
Perth
Sydney
Stand Out Features
In Australia, the Lets Go brand is a fully serviced motorhome fleet with access to vehicles across all major cities.
With a focus on convenience, Let's Go have centered their product around outstanding availability and comfort, with the majority of their vehicles equipped with the best in modern facilities and an on-road time of under 2 years.
Lets Go combine luxurious motorhomes with unbeatable value, and their extensive network of Jayco approved repairers ensures no matter where you are, you're taken care of on the road.
Vehicle Age
1-7 years Old