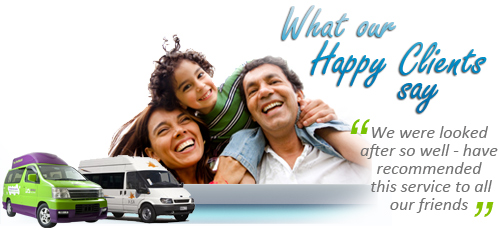 17/06/2017
No hassles at all very smooth great communications.
17/06/2017
Very good thanks
12/06/2017
No problems at all. Very professional
11/06/2017
No issues with the reservation and return process. Live chat and emails were answered promptly and completely.
10/06/2017
Reservation was very easy. Had no problem at all
08/06/2017
Everything was smooth
05/06/2017
I had no problems at all, I booked online, and also rang with a few questions and found the staff to be very polite and helpful.
03/06/2017
very easy and simple
03/06/2017
Good , available a short notice.
03/06/2017
The booking process was very good
03/06/2017
good all round
03/06/2017
An easy pleasant and painless to transaction
03/06/2017
Reservation was very easy and information was easy to understand and follow.
27/05/2017
Really helpful when we missed our flight to Launceston they changed pick up to Hobart without a drama.
27/05/2017
Good online interface Customer service was really good when I wanted to alter my booking and ask questions.
20/05/2017
Efficient friendly quick.
20/05/2017
We were very well looked after at pick up and drop off
13/05/2017
quick and easy