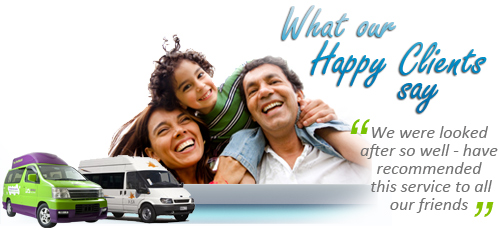 20/08/2017
Reservation was easy to deal with no problems
12/08/2017
Booking and service compared to others excellent. Very helpful and friendly staff
12/08/2017
Staff were amazing especially Lucy at the Perth depot. Everything wad organised and easy..very efficient. We usually have one campetvan trip a year and will definitely use Discovery Campervans again.
12/08/2017
Helpful staff both at the start of the process and at the end. Many thanks
07/08/2017
Everything went smoothly & the young lady at Perth office did an outstanding job setting us up & extra help with information Thank you!
06/08/2017
Good & Helpful generally. BRUCE in Brisbane truly made our trip as his suggestions to fit in with our time & interests was absolutely SPOT ON for the whole trip...many thanks Bruce for helping make our trip memorable and from saving us from wandering around in some places for no gain. Great advice. Brisbane staff good & lady in Cairns very good at bedding change time! Actual online reservation was good with queries clearly addressed thanks...just get the vehicle presentation UP a notch please
05/08/2017
Super good communication and easy transaction
05/08/2017
Simple and easy booked online and when arrived at pickup point the guys were helpful plus the video we had no problems with our van.
05/08/2017
Very good customer service from the time of booking all the way through. Special recognition and thanks to Peter Reagan in Broome, who was outstanding in getting us sorted and on our way.
05/08/2017
Discovery Campervans provided excellent service. They answered all our questions promptly and courteously. When one of their suppliers was unable to fulfil our booking just 2 weeks before our holiday, Discovery Campervans immediately advised us of the situation and sourced an alternative vehicle so that our trip was not affected. Not only did they provide the replacement at a discounted rate, they also refunded our payment in full even though they had not received a refund from the third party. Thanks to Discovery Campervans we were able to continue our holiday. I would recommend them for excellent customer service, and their honesty and integrity in a difficult situation.
02/08/2017
Reservation process was great and easy. Collection on the Sunday was by arranged appointment and after about 30 minutes with instructions on how to use the various features on the van we were off on our adventure. We were able to drop off the van on the following Saturday afternoon.
31/07/2017
Took a fair while to collect van-but they were busy
31/07/2017
The reservation process was fine. Again staff were very helpful.
30/07/2017
Everything was very simple and easy. Guys at Eagle farm so helpful and friendly. Will definitely use again. Thank you.
30/07/2017
Agnus in Brisbane was really good.
29/07/2017
Very easy to book, helpful and quick to respond to any queries.
29/07/2017
No problems on pickup or drop off. Very organised
22/07/2017
Excellent, most helpful & friendly