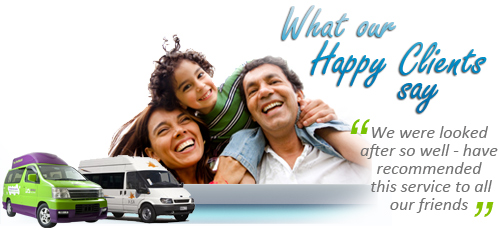 20/02/2017
Very friendly and efficient got us going very quickly. Hand back was equally efficient and painless. Would definitely use them again.
18/02/2017
Ended up with two bookings by accident, however this was quickly resolved on arrival. Staff at the depot in Hobart were wonderful, they really new their product.
18/02/2017
Excellent service from quote to signing on the dotted line. Fabulous contact and explanations of how the hightop would suit our needs and our holiday expectations. Highly Recommend.
18/02/2017
Excellent...fantastic customer service all round. Well done to the Hobart team.
16/02/2017
The bond for the insurance needs to be made more clear that the bond amount comes off the credit card at the time of picking up the vehicle. I read it but didnt take in you need $5000 credit at least on your card.
14/02/2017
Very simple - no problems.
13/02/2017
Efficient and friendly, although drop off took a little long..it was very busy that day!
13/02/2017
excellent - fast and friendly service
13/02/2017
Very easy to reserve- the staff always helped me with each step of the way! No hidden fees.
13/02/2017
Easy to book, collect and return the van
11/02/2017
What would stop me from doing this again is the exhorbitant cost of insurance which should it be so.
11/02/2017
Very easy from booking, deposit, payment, pick-up, drop off. Thanks
11/02/2017
We did all the reservations online and it was a simple problem free procedure
04/02/2017
This all went smoothly and booking staff were very helpful and efficient.
04/02/2017
Reservation process worked well
03/02/2017
You guys were great! Really helpful. Would def use again.