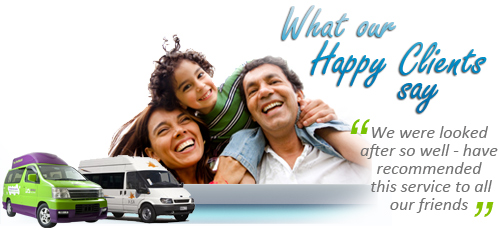 20/05/2017
Efficient friendly quick.
20/05/2017
We were very well looked after at pick up and drop off
13/05/2017
quick and easy
09/05/2017
all very good. The staff at Adelaide were very helpful and pleasant to deal with
06/05/2017
On arrival at Hobart there were 4 groups of customers being served by 1 person. To her credit she did process our reservation within the hour and was very good
30/04/2017
Very Good service
30/04/2017
All very simple. Just to note, although Discovery Campervans do not charge a credit card fee for the deposit, Travellers Autobarn do when you pay the balance.
29/04/2017
The guys at Discovery were amazing and so helpful
29/04/2017
Very simple. The process works well. Pick up went very smoothly. The girls at the office in Hobart where pleasent and efficient. We where on our way in no time. We will definitely use Diiscovery next time.
29/04/2017
reservation was done online and was very straightforward.
28/04/2017
Booking was straight forward.
23/04/2017
Easy to reserve.
22/04/2017
It was all very simple and convenient. We had Sunday pick ups and returns and it was all very straight forward and easy.
22/04/2017
excellent process. staff were very helpful, gave good quality advice and held my booking (for a day or two) so that I could get everything organised. Would definitely use again. thanks!
22/04/2017
Very good, no waiting and service excellent.
19/04/2017
The staff were very well mannered and met all our expectations, even when I requested to extend the vehicle hire for an extra day they were very helpful and allowed the extension. Thanks to all of you and see you next year, our experience was an absolute joy.
16/04/2017
Friendly staff easy to understand. Quick process
14/04/2017
All good except not given good direction as to where to pick up van at airport had to phone the office to find where they were . Staff friendly and very helpful.
10/04/2017
Kerrie in bookings made the process easy - we may need to book another van in a few weeks. Ta