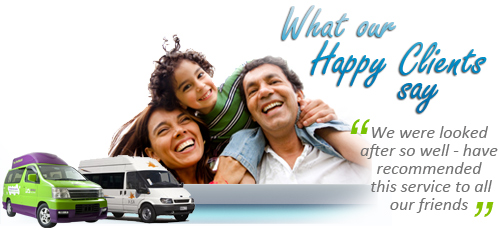 15/10/2017
Excellent and always helpful
15/10/2017
Booking the reservation was so easy all done on-line, no problems what so ever.
15/10/2017
Easy, transparent and fast.
15/10/2017
Super easy right from the first phone call. Phone staff had great knowledge of the vehicles on offer and super helpful with any of our questions. When we got to the pickup depot in Adelaide (PETER) was great very helpful great knowledge of the camper. Will not hesitate to use your company again. Great way to holiday.
14/10/2017
Excellent service from the on-line check-in, phone call queries and from the staff on the days we picked up and returned the campervan. Thank you!
14/10/2017
Helpful and easy booking. All queries answered.
07/10/2017
Easy on-line process
03/10/2017
Staff very helpful. No issues at all
03/10/2017
Reservation process was easy.
03/10/2017
Easy , wonderful staff in Hobart had a great Tassie holiday. I waved to more fellow cruising vans in 5 days,, then I"ve done in my local town over the last l2 months .Looking forward to coming back
03/10/2017
The reservation with Launceston rentals was great. Probably the best experience I have had with a camper rental company. Thank you guys for such a pleasant experience.
01/10/2017
NO problem with the reservation, but would prefer a person to go over the features of the RV rather than watch a video. Not everything in the video applied accurately to our RV, and an active demonstration, where one can ask questions as needed, would be much more effective. We enjoyed our trip very much, thank you.
30/09/2017
We were disappointed to not get the dates we asked for due to van availability. Ladies were always friendly and accommodating. Unfortunately our early pick up of 730 am was apparently not communicated to the Alice springs office? But Rachel in the Alice office ensured that we had the use of another car so that we could do our big shop for the van. Rachel was also was very accommodating when we wanted to extend our van for an additional night.