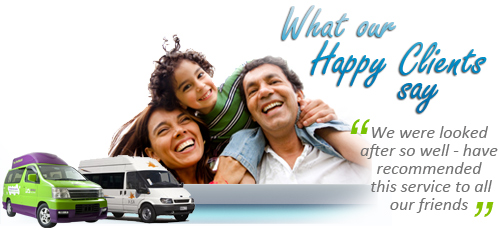 21/03/2017
The staff were friendly and courteous The reservation system was efficient and straightforward. When we called up to extend another day the person was exceptionally helpful and quick to respond with a few options. We loved our experience on the whole.
20/03/2017
The whole booking process was easy, and the staff at the Hobart pick up drop off were very friendly and helpful. Thank You for making our first trip a happy and enjoyable one, will differently recommend to all.
19/03/2017
It was great, little or whelming with all the information we had to absorb. We had an excellent trip, we will definitely recommend your company for vehicle rental to our friends.
18/03/2017
I was given some different information booking through Discovery than what I was told at Cruisin. e.g. their business hours did not align. Otherwise my conversations were informative and helpful.
18/03/2017
reservation very easy have no complaints at all great time was had in Tassie we will be back at some stage
18/03/2017
Reservation was easy.but the bond should be on hold not taken out of your account,
18/03/2017
No issues all went smoothly
11/03/2017
Prompt and efficient
04/03/2017
The reservation was easy
01/03/2017
No issues with the reservation and collection of the campervan
25/02/2017
Simple, fairly straight forward , no problems.
25/02/2017
Excellent service
20/02/2017
Very friendly and efficient got us going very quickly. Hand back was equally efficient and painless. Would definitely use them again.
18/02/2017
Ended up with two bookings by accident, however this was quickly resolved on arrival. Staff at the depot in Hobart were wonderful, they really new their product.
18/02/2017
Excellent service from quote to signing on the dotted line. Fabulous contact and explanations of how the hightop would suit our needs and our holiday expectations. Highly Recommend.
18/02/2017
Excellent...fantastic customer service all round. Well done to the Hobart team.
16/02/2017
The bond for the insurance needs to be made more clear that the bond amount comes off the credit card at the time of picking up the vehicle. I read it but didnt take in you need $5000 credit at least on your card.