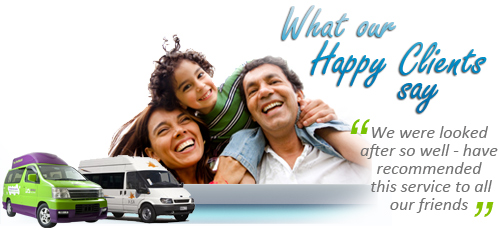 17/03/2018
Easy, friendly and efficient
17/03/2018
Efficient and professional. Everything ran smoothly. We were very happy with the whole process.
17/03/2018
Reservation process was easy and straightforward.
17/03/2018
All good no problems with the staff
17/03/2018
Storm at bookings was very helpful and recommended perfect camper to accomodate my 193 tall son. He did managed to stand within the van and had a long enough bunk bed!
12/03/2018
Booked online and also phoned with questions. All very easy.
12/03/2018
begining of tour in Perth, phone discusions, money exchanges all good. On site person we first met when picking up our van was business like , not very friendly, we had just travelled from the other side of the world to pick up our van and were quite excited . We did not let her cool attitude diminish our enthusiasm. End of tour team were all wonderful and made our van drop off day in Melbourne seamless.
11/03/2018
Excellent. Vehicle was ready when they said it would be very helpful staff.
10/03/2018
The online booking process was very easy. No faults at all. They might be there already and I just missed them but I thought It would be nice if there were more photos of the inside of the van on the website e.g show the fold out kitchen and fridge size maybe. It would also be helpful to see a photo of exactly what kitchen utensils and other extras are included to help with pre-trip planning. Apart from that everything was great.
05/03/2018
Easy and efficient
03/03/2018
Very easy to do on line, with prompt attention to any questions.
03/03/2018
was well presentd
26/02/2018
Possible inclusion of an annex for the side of the vehicle, would be a great addition and great use also for the hirer.
25/02/2018
Orientation with the van could have been better at pickup, but overall booking process and returning the vehicle was very good
24/02/2018
Fantastic ! Very helpful staff who answered all my questions and gave great advice and service
19/02/2018
Everything wss ready when we arrived very helpful staff and the back up service outstanding