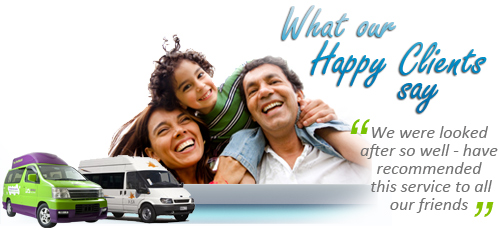 16/04/2017
Friendly staff easy to understand. Quick process
14/04/2017
All good except not given good direction as to where to pick up van at airport had to phone the office to find where they were . Staff friendly and very helpful.
10/04/2017
Kerrie in bookings made the process easy - we may need to book another van in a few weeks. Ta
09/04/2017
Booking site makes it easy to book online, but if you need to speak to a consultant, phoning or emailing a request brought a prompt response.
08/04/2017
Had bit of confusion but issue was resolved on email promptly.
08/04/2017
Making the reservation and everything afterwards was easy.
05/04/2017
Good check in and check out. Vehicle handover was comprehensive for first timers and experienced motor home users!
03/04/2017
Very good and reactive.
02/04/2017
Ok.No problems
01/04/2017
Reservation was easy and quick; getting vehicle and returning it not so much.
25/03/2017
Is 123 and You are your on the road Perfect!
25/03/2017
All paper was completed quickly and efficiently, on-line booking was simple and customer follow -up good.
21/03/2017
The staff were friendly and courteous The reservation system was efficient and straightforward. When we called up to extend another day the person was exceptionally helpful and quick to respond with a few options. We loved our experience on the whole.
20/03/2017
The whole booking process was easy, and the staff at the Hobart pick up drop off were very friendly and helpful. Thank You for making our first trip a happy and enjoyable one, will differently recommend to all.
19/03/2017
It was great, little or whelming with all the information we had to absorb. We had an excellent trip, we will definitely recommend your company for vehicle rental to our friends.
18/03/2017
I was given some different information booking through Discovery than what I was told at Cruisin. e.g. their business hours did not align. Otherwise my conversations were informative and helpful.
18/03/2017
reservation very easy have no complaints at all great time was had in Tassie we will be back at some stage
18/03/2017
Reservation was easy.but the bond should be on hold not taken out of your account,