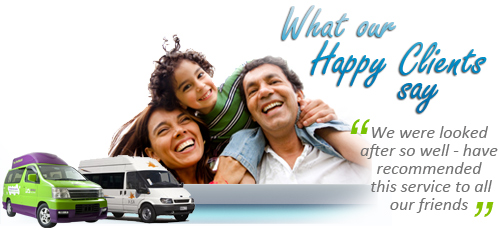 15/01/2017
Reservation process was very efficient, for change in camper call was made and description of changes made very clearly.
15/01/2017
Excellent. 5 stars
13/01/2017
Easy, good communication, great service on pick up and drop off.
08/01/2017
Very helpful and professional at every stage.
08/01/2017
Excellent customer service, which is why I chose them over the other companies.
06/01/2017
We had a very good trip and fun time altogether. Thank you.
05/01/2017
Easy process to book and very friendly staff in the office whole experience from start to finish was smooth.
31/12/2016
All smooth and very helpful. We were nervous and unsure about using a debit card instead of credit card for the bond or imprint though. It was fine but maybe this could be made clearer in the booking information.
31/12/2016
The ladies were very helpful and explained things well too us.
28/12/2016
The lady at reservations was extremely helpful and considerate. We needed a late checkin due to our flight arrival time, and she was so gracious about our timing. The information provided with the booking - camping locations etc was very useful.
25/12/2016
Very good. Very smooth.
24/12/2016
No problems when we booked, and when we had to change the dates, the staff were very helpful. Unfortunately we had to cut our trip short as I had problem with my back, once again the staff were most accomodating.
20/12/2016
Online reservation process was easy. Staff upon pick up and drop off were very helpful, customer service was excellent. Would definitely book again through Discovery Campervans.
19/12/2016
Quick easy friendly staff great value
17/12/2016
Excellent interaction.. friendly, supportive, efficient from reservation, thru pickup and return
13/12/2016
Friendly and very helpful and easy.