Cruisin Seeker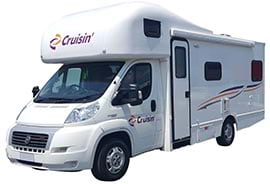 Floorplans
Vehicle Details
Vehicle
Vehicle Age
Under 4 Years
Air Conditioning
Yes
Seating
Maximum Passengers
4
Seatbelts
2 in Drivers Cabin, 2 in Main Cabin
Child Restraints
Total Child Restraints Permitted - 2


Rear Facing

Maximum 2 (Supply Own)


Forward Facing

Maximum 2


Booster

Maximum 2
Internal Access
Yes
Living Area
Awning
Yes
Crockery Cutlery Pots Pans Supplied
Yes
Fire Extinguisher
Yes
Fridge & Freezer
150L (3way-gas,12v & 240v)
Fly Screens
Yes
Gas Cooker
3 Burner Gas Stove & Grill
Gas Bottles
1 x 9kg
Hot & Cold Water Supply
Yes
Linen Supplied
Yes
Microwave
Yes (requires 240v)
Reverse Cycle Air Conditioner
Yes
Sink
Yes
Sleeping Configuration
1 x Cabover (2.14m x 1.35m)
1 x Double (2.14m x 1.28m)
Shower and Toilet
Yes
Entertainment
Audio System
Radio and CD player
TV - DVD
Yes
Vehicle Specifications
Dual Battery
Yes
Engine Specifications
4 Cylinder Diesel
Fuel
Diesel 75 Litre Fuel Capacity
Fuel Consumption
15 Litres per 100kms
Make of Vehicle
Fiat or VW
Power Equipment
Power Steering
Power Supply
12v / 240v
Transmission
Automatic
Water Tank Capacity
90 litres
Waste Water Tank Capacity
90 litres
Vehicle Dimensions
Height
3.50m
Length
7.44m
Width
2.24m
Interior
1.96m
Disclaimer:
Actual vehicles may vary according to year of manufacture & availablility, but vehicle will be suitable for required number of people and have similar specifications to those on this website. Specific specifications cannot be requested. Measurements are approximate, not guaranteed and specifications may change at any time without any prior notice.
29 Reviews for Cruisin Seeker
Cesare Colaluca
26 March 2018
The vehicles was good, it was a challenge to drive not an issue of the vehicle but the size. Fuel cap was ridiculously difficult to close. Sleeping on the cushions was not very comfortable however adequate. The grey water discharge was not working well it seemed to leak all the time, yet the indicator on the panel constantly showed 50% full
sharon roberts
27 January 2018
We were lucky enough a have a new vehicle. Easy and smooth to drive, loads of Storage, comfortable to sleep, air con was fab. Easy to cook in and easy storage for food.
Ben Magarik
02 December 2017
Excellent vehicle.
Gena Campbell
18 November 2017
We had a fabulous 4 nights in our large Cruisin Camper. Loved the freedom. Loved the van.
bryan close
04 November 2017
Supply of all bedding & cooking utensil & clean of the vehicle was very good & the phone assistance was excellent,
Chelsie Constable
23 October 2017
All good No problem
Jeanette Keding
21 October 2017
Best motorhome we have hired, Will be back next year.
Tom Walsh
18 October 2017
Needs a toilet roll holder installed in bathroom - needs speakers in rear
Geoff Hessels
15 October 2017
The vehicle was well equipped and traveled well on the road, plenty of power yet very economical, I was quite surprised.
Jessica Palmer
03 October 2017
Mechanically the car worked perfectly but there were a lot of little things that rattled off and around when we were driving like a plastic light cover, the shower door and the microwave. Nothing major but it got a bit annoying after a while.
Robert Walder
04 September 2017
Was excellent good fuel economy & went well with no problems at all
The Vehicle we has is showing some wear and tear. But in general the camper when will with no problems.
Robert Clarke
20 May 2017
Had all we needed for a week on the road. Great service from the company. Fuel economy was good. Minor: Just would have liked a little bit of space to hang a few clothes. Otherwise very happy.
Nice to drive Really noisy when travelling bed above driver was noisy the whole time and around the stove area as well
Jenny Gatens
27 March 2017
Vehicle was fantastic, we were up graded on pick up to a bigger one. Not all caravan parks and free camp areas are level, vehicles could do with some sort of level chocks in the underneath storage compartment
Denis Meredith
04 March 2017
All OK, no problems, reliable, reasonably comfortable
Kelly Baumann
18 February 2017
Super comfy and well fitted out. We had everything we needed tucked into a tidy, well thought out space. Fiat was fabulous to drive.
Ben Magarik
13 February 2017
Amazing vehicle! Amazing service. Wonderful experience with all of the staff.
Mate Kovacs
21 January 2017
Everything was perfect.
James Blundell
17 December 2016
brilliant vehicle, well powered, well geared.. extremely economical.. 1000klm to 100 litres of fuel fully loaded.. Extremely comfortable, very well laid out... simply cant fault it..
Craig Thorp
03 December 2016
Rated down as headlight, reverse light and toilet light blew on trip.
Laurel and Janise Wales
12 November 2016
it was absolutely awesome everything we need was included shower toilet fridge/freezer microvawave gas cooker all we has to do was buy food was worried at first driving a 7metre camper but got used to it in no time so easy to set up at the holiday parks we visited we had it for 12 days wasnt long enough lol but will be doing it again in the not to distant future
Liz Sibthorpe
06 November 2016
Driver was most impressed with Motorhome - enjoyed driving it.
Ganapathy Mundiyolanda
25 October 2016
Handled very well for its size, met our expectations, but had a few issues with filling up water. The vehicle had to be titled at an angle for the water to go in or it just kept flowing out! The other issue we had was that the grey water outlet hose was very short. Most of the places the grey water dump point was on the other side of the vehicle and the grey water hose would not reach. Other than these two issues we came across it was wonderful to drive around Tasmania in the Seeker.
Colleen Van Lierop
24 August 2016
We didnt like the front wheel drive, probably because we are used to rear wheel drive. I think some more basics could be added: eg: Dishcloths,Scrubber & tea towels, laundry pwd, toilet paper Radio aerial was missing so we often had no reception. Other than those few bits & pieces,we thoroughly enjoyed the use of the vehicle.
Over all we had an AMAZING time. Very easy to drive, fuel efficient and everything you could want in a holiday!!!!
Lalena Makin
04 July 2016
Awesome new clean tidy and spacious
Sharon Dennert
26 June 2016
The vehicle was lovely. Our overall experience was fantastic and this feedback is not in any way meant to be negative. We felt the induction video was a great idea but would have liked to have been emailed a link to it so we could have viewed it before arriving (we would have still been happy to watch it again) as the screen we were watching on was only properly visible to one person. I feel the induction video should also include some instructions about driving a vehicle of that size and also with that gear style.. The van had multiple keys, it would have been helpful if they had been identified in some way. The vehicle has the provision for a reversing camera, it would be helpful if this was installed. From a hygiene point of view, disposable gloves should be provided for emptying the toilet and the grey waste pipe should not be stored in the same compartment as the fresh water hose. We had to stop using the onboard toilet as we ran out of the sanitising sachets a couple of days before we finished our trip. As this was the first time we had hired a vehicle like this, we had no idea there were free black and grey water dump sites, it would have been helpful to have been told of these facilities.
If you want 5 star you should book a hotel. The van was easy to drive. The facilities very good and easy to set up. I would recommend it and I would not hesitate to book it again on our next trip.