Britz Venturer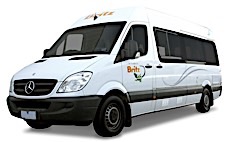 Floorplans 1819
Image Gallery












Vehicle Details
Vehicle
Vehicle Age
1 - 4 Years
Air Conditioning
Yes
Seating
Maximum Passengers
2
Seatbelts
2 in Drivers Cabin
Child Restraints
Total Child Restraints Permitted - 1


Rear Facing

Not Permitted


Forward Facing

Not Permitted


Booster

Maximum 1
Internal Access
Step Through Access
Living Area
Crockery Cutlery Pots Pans Supplied
Yes
Fire Extinguisher
Yes
Fridge & Freezer
110 - 130 Litre
Fly Screens
Yes
Gas Cooker
3 Burner
Outdoor BBQ
Yes external slide out
Gas Bottles
1 x 9kg
Hot & Cold Water Supply
Yes
Linen Supplied
Yes
Microwave
Yes (requires 240v)
Reverse Cycle Air Conditioner
Yes (requires 240v)
Sink
Yes
External Table
Yes (Pick ups after 1 April 2019)
Safe
Yes (Pick ups after 1 April 2019)
Sleeping Configuration
1 x Double Bed (1.91m x 1.78m) OR
2 x Singles (1.91m x .60m)
Shower and Toilet
Yes
Entertainment
Audio System
Radio / CD
TV - DVD
LCD/DVD Player
Vehicle Specifications
Dual Battery
Yes
Engine Specifications
2.2 or 2.5 Litre, Diesel
Fuel
Diesel, 75 Litre Fuel Capacity
Fuel Consumption
Approximately 10 Litres per 100 km
Make of Vehicle
Mercedes or VW
Front Swivel Chairs
Yes (Pick ups after 1 April 2019)
Power Equipment
Power Steering
Power Supply
12v & 240v
Transmission
Automatic
Water Tank Capacity
120 Litres
Waste Water Tank Capacity
120 Litres
Vehicle Dimensions
Length
7.00m
Width
2.04m
Height
2.80m
Interior
1.90m
Disclaimer:
Actual vehicles may vary according to year of manufacture & availablility, but vehicle will be suitable for required number of people and have similar specifications to those on this website. Specific specifications cannot be requested. Measurements are approximate, not guaranteed and specifications may change at any time without any prior notice.
25 Reviews for Britz Venturer
Chris Burford
09 July 2018
Nice vehicle to drive with good fuel economy. There were some small issues with the vehicle which we advised when handing back the vehicle. Did not stop us from having a great holiday and will do again.
David Knowles
07 July 2018
No issues at all. Couple if suggestions would be a mat to put on top of cooker to drain dishes on, and the hose to put in water tank was difficult to put into correct position/hole - maybe it could have a narrower end.
Jo-Anne Allen
02 June 2018
Our Camper was very easy to drive, setup and had all the equipment we needed to make our adventure a memorable one.
Barbara Power
05 May 2018
The van had everything I needed, except a reversing camera, and was easy to drive! Thoroughly enjoyed my 12 days !
Sarah Groombridge
08 April 2018
Fairly old vehicle with dents and scrapes - the guy who showed us how everything worked said this was because they go in and straight out again! We are caravan owners and even we had to call the engineer to find out how to fix the water heater which was temperamental. Shower was too small for us to use but we stayed on sites so used facilities there. Otherwise clean and comfortable and fairly well equipped.
Kevin Bresolin
19 February 2018
Very comfortable lovely to drive
Jodi Bourke
27 November 2017
A couple of issues with warning lights coming up in the first few days. The service from the hotline in NZ was excellent though
Jodi Bourke
27 November 2017
Pick up took over 1.5hours and seemed completely disorganised. People were not prioritised by arrival time. Staff did not seem to have a great sense of urgency. Drop off was similar.
Michelle Mather
13 November 2017
Very comfortable and excellent fuel consumption, we were pleasantly surprised.
Thera Van Poppel
15 October 2017
Fantastic. The overhead cavity at the front (between Sun visors) sticks out too far though - we bumped our heads several times on it.
Trevor Stow
23 September 2017
All good. The second vehicle served our purposed nicely.
Barry Saunier
10 September 2017
good vehicle to drive but van accomodation was too small for us.
Dave Duirs
06 August 2017
This is the only way to travel and we have done 2 previous trips with you & have our own similar van at home so know something about all this....POSITIVE
Patrick Gallagher
02 August 2017
was very good to drive and fit out was great, only faults we had was the bed was as hard as a rock and the awning was useless as with awning in place you could not open side door.
Karen Turner
29 July 2017
Very clean, easy to drive and comfortable.
Elizabeth Edge
15 July 2017
Comfortable, well designed, and easy to drive.
Patricia Hannah
24 June 2017
smooth easy to drive everything required no problems
Arun Sivakumar
19 March 2017
great vehilc.e all appliances were up to date
Ray Chan
05 February 2017
probably needed a service otherwise all good
Jasmine Dwarte
24 September 2016
We loved our vehicle. We were delighted upon arrival to find out that we had been upgraded to a bigger van with a toilet and shower which was fabulous. The van was tidy and clean which exceeded what i had orginally expected. The bed was also more comfortable than i was expecting. We had a fabulous time exploring the cairns coastline in our van.
Debbie Sorensen
10 September 2016
It was fitted and stocked excellent.
irene bartlett
29 August 2016
Clean, though bed very hard, sliding door to get outside would not open from inside, that was quite painful, the cover for the hand brake kept falling off, other than that the van was fine
irene bartlett
28 August 2016
The sliding door would not open from the inside making it quite difficult to get out. We had to leave the door at ajar to get out, The cover for the hand brake kept coming off..
John Cronshaw
27 August 2016
The 2 berth camper van was quite adequate for our needs, everything functioning well except for the charge for the Tom Tom was not working.
tony ireland
27 August 2016
van was great but needs a step down from slide door also handles are needed to help get into / out of van both doors for an older person it would very hard . gps was to far away from driver and some paper work on how to work it . great on fuel .and I liked the gps warnings on speed cameras at stop lights top idea it just helps when your on holidays