Britz Venturer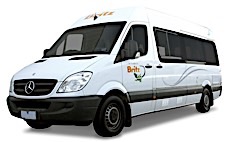 Floorplans
Image Gallery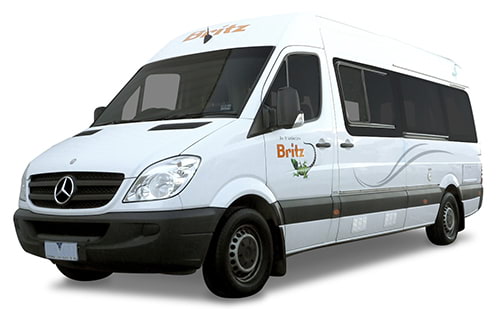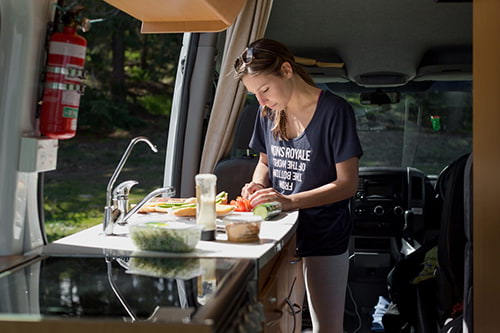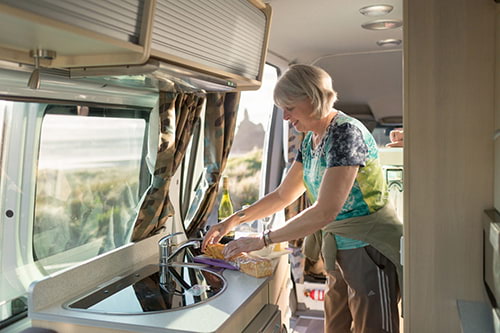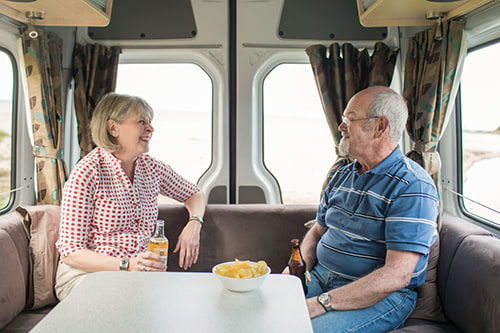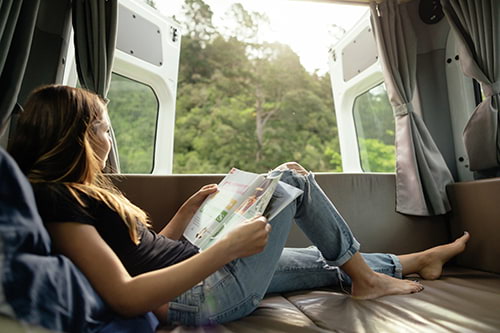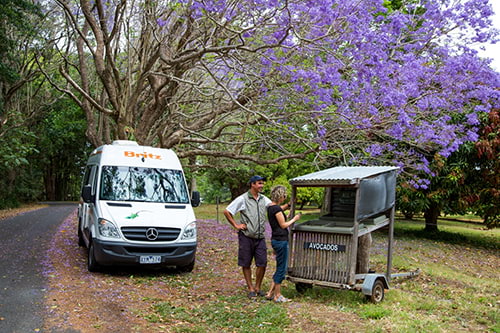 Vehicle Details
Vehicle
Vehicle Age
1 - 4 Years
Seating
Maximum Passengers
2
Seatbelts
2 in Drivers Cabin
Child Restraints
Total Child Restraints Permitted - 1


Rear Facing

Not Permitted


Forward Facing

Not Permitted


Booster

Maximum 1
Internal Access
Step Through Access
Living Area
Crockery Cutlery Pots Pans Supplied
Yes
Fire Extinguisher
Yes
Fridge & Freezer
110 - 130 Litre
Fly Screens
Yes
Gas Cooker
3 Burner
Outdoor BBQ
Yes external slide out
Gas Bottles
1 x 9kg
Hot & Cold Water Supply
Yes
Linen Supplied
Yes
Microwave
Yes (requires 240v)
Air Conditioner in Living Area
Yes (requires 240v)
Air Conditioning in Drivers Cabin
Yes
Sink
Yes
External Table
Yes
Safe
Yes
Sleeping Configuration
1 x Double Bed (1.91m x 1.78m) OR
2 x Singles (1.91m x .60m)
Shower and Toilet
Yes
Entertainment
In Drivers Cab
Radio, Bluetooth, USB input
In Main Cab
DVD player with flat screen, Radio, CD with MP3 audio/iPod/USB input
Vehicle Specifications
Dual Battery
Yes
Engine Specifications
Turbo Diesel
Fuel
Diesel, 71-75 Litre Fuel Capacity
Fuel Consumption
Approximately 10 Litres per 100 km
Make of Vehicle
Mercedes or Volkswagen
Front Swivel Chairs
Yes
Power Equipment
Power Steering
Power Supply
12v & 240v
Solar Panel
No
Transmission
Automatic
Water Tank Capacity
120 Litres
Waste Water Tank Capacity
120 Litres
Vehicle Dimensions
Length
7.00m
Width
2.04m
Height
2.80m
Interior
1.90m
Disclaimer:
Actual vehicles may vary according to year of manufacture & availablility, but vehicle will be suitable for required number of people and have similar specifications to those on this website. Specific specifications cannot be requested. Measurements are approximate, not guaranteed and specifications may change at any time without any prior notice.
25 Reviews for Britz Venturer recently
Thomas Catalanotto
17 July 2021
Too vehicle. The outside BBQ/ burner was excellent. Had an issue with a screw in our tire promptly dealt with thank you!
Colin & Monica byrnes
03 July 2021
The performance of the vehicle ( Mercedes Sprinter ) was excellent, Fuel consumption also excellent. However, there were minor electrical problems that popped up now and then, and the power cord was loose when plugged into the van's connecting socket causing us to go without power for several days toward the end of the journey when it stopped connecting altogether. Have to say though that the battery power, thankfully, did see us through . Lots of noise within the cabin coming from the sliding door which shook and groaned the whole way to Cooktown and back , which was better than the initial warning siren we coped with for hours, but which the RACV man was able to fix for us ( thank you) . Staff guidance on pick up was good, but not detailed enough for anyone taking a first trip. This was our second so we had retained knowledge of the inner workings from our previous experience. All in all, we had a great time and loved our little 'home' on wheels for the duration and would be happy to do another trip
John Hodsdon
09 June 2021
draw fell apart
it was clean enough but the layout/design restricted movement and using the seat cushions as a mattress was not ideal (but perhaps no alternative)
Paul HAMILTON
29 March 2021
Generally an all round good experience. The vehicle and all its fittings worked well, with the exception of the water pump. It made a terribly loud noise every time it was used which was a constant nusiance.
Natalie Moore
28 March 2021
Bloody amazing!!!!
Anthony Rossiter
20 March 2021
House battery was a real issue. No small DC fans for sleeping and not enough windows with screens.
Martin Edney
21 November 2020
Only one issue with faulty toilet handle
stephen coleman
14 October 2020
Very good to drive, comfortable and economical. Features good and layout easy to work with. A permanently mounted awning would have been good however
Debbie Huxley
20 September 2020
very comfortable vechicle and great back up service as we had a flat battery and this was replaced within a few hours The phone support was also very good
Keith Fletcher
07 September 2020
The vehicle was great - easy to drive, comfortable to live in. We had a problem with the onboard toilet that could not be repaired - an identical replacement van (with working toilet!) was provided 3 days after reporting the problem. A minor annoyance was that the time on the central display was wrong, and we could find no way of adjusting it. Otherwise, more than happy.
Chris bleach
05 September 2020
The Britt Motorhome was comfortable, but I think a couple more sliding windows in the rear for more ventilation would be nice. But friendly staff a a great holiday
Monique Latu
29 August 2020
Wow! Was the first words to come out of our mouths when first seeing the size of the vehicle we were going to have for the next ten days. Then panic set in to think are we going to be able to drive/handle such a big campervan even though we are reasonably good drivers. Well we did not need to worry, after the initial feel of the van within an hour it drove like a dream.
Julie Underdown
22 August 2020
Great small camper ideal for what we wanted. Everything we needed in the campervan Very fuel economical. Cheaper to run than my own Suzuki Vitara Easy to drive great vision
Power points could be more accessible otherwise fine.
Christopher Oakley
20 June 2020
The vehicle was fantastic. It had plenty of room and the features were fantastic. Loved the outdoor BBQ and the little attachable table you could add to the side of the van. Drove well and when we finally found the video instructions it was very informative. Only downsides I would have is that the water does run out quite quickly and we would go for one with a bigger tank next time. Also, due to COVID we didn't get the tour so we didn't realise about the video and GPS system. We also didn't get out 1GB inclusion for WIFI as the company had switched it off due to COVID as they hadn't been being used. But there was more than enough gas for 4 days of hot showers and we did all our own cooking. Shower was remarkably good and hot. (But make sure you park flat or on slight lean towards the drivers side or the bathroom won't drain and you be toileting in a little wading pool for the night haha)
Kathy Flanagan
28 March 2020
The vehicle worked perfectly however it was not the type for us. It was too cramped and the toilet and shower was not used so wasted space.
David Billiau
07 March 2020
The vehicle was eace to drive and ease to move around in, but the only thing that bother us was the bedding the cushion were to thin and it made it hard to sleep at night apart from that it was good to drive
Barry Clark
21 September 2019
Found the vehicle to be an excellent way to travel around Australia. Easy to drive and comfortable would have liked to keep on travelling 👍😎
Digby Hughes
14 September 2019
Very good - bed was a tad short - and we are not that tall
Sandy Wright
07 September 2019
Everything in the van that you could want. Easy to drive and comfortable seats and converted bed. Had a problem with air flow at night when closed up. Onky one window and one vent with mesh to stop mozzies getting in.
Robyn Jensz
24 August 2019
Was great to drive and pretty good on fuel considering it's size. It was showing some where and tear on the interior but you expect this on a van that's travelled over 200,000 km. Everything we needed was supplied and the bed was very comfortable. Bit annoying that the DVD player didn't work and the bottom kitchen drawer slid in and out when taking corners. Chairs and table pretty old too.
MICHAELA LAWRENCE
19 August 2019
Everything we needed ... great way to travel.
Murray McKibbin
12 August 2019
It was fantastic travelling in a motorhome. We had so much fun - it was very handy having our own toilet.
robyn newman
10 August 2019
Excellent