Travel Blogger Q&A ~ Red Nomad OZ
General About you: Red Nomad OZ is Marion Halliday, seasoned Australian travel blogger at www.redzaustralia.com and author of Aussie Loos with Views – perhaps the most unusual Australian travel book ever! Marion left her previous lives as educator and administrator behind to provide travel information and advice, and tell stories about her adventures while exploring Australia's awesome natural attractions and finding its hidden secrets.
Twitter: @RedNomadOZ
Travel Experience: Marion's extensive travels in every Australian state and territory have already given her enough adventures to write a book – AND a blog! An independent traveller who regularly hits the Aussie road in a 1983 Jayco Dove camper trailer with partner Pilchard, Marion shares her Australian travel experiences with like-minded travellers looking for Aussie travel inspiration. She's seen cane toad racing and a camel cup; had close encounters with crocodiles and been bitten by a wombat; climbed Australia's highest peak and the world's smallest mountain; visited lots of fantastic Aussie bakeries and discovered some of Australia's most scenic public loos! Just don't ask where her favourite place in Australia is – there are WAY too many to list!
Website: www.redzaustralia.com
What is one hidden gem of a destination well worth visiting?
For superb natural attractions, wall to wall wildlife and birds (feathered!), deserted beaches, fantastic hikes, wonderful seasonal wildflowers, intriguing history and magnificent coastal scenery I recommend South Australia's Innes National Park! On my blog, I've actually described it as The Jewel in the Toe because it's right at the 'toe' of the leg-shaped Yorke Peninsula. Innes National Park is about 300 km (or 3 – 3 ½ hours drive) from Adelaide (head north via Port Wakefield, then south-west via Ardrossan, Minlaton and Warooka), making it great for a weekend break and perfect for a longer stay.
Although it can get pretty busy during holiday periods, there's always somewhere to get away from the crowds. And outside of those busy times, you'll almost have the place to yourself! Actually, if you've got more time, use Innes National Park as a stepping stone to explore the whole Yorke Peninsula – with a huge amount of coastline, it's only 30 km across at its narrowest point which means an awesome coastal attraction and/or activity is only ever a short drive away! Of course that also means it's got one of the highest concentrations of Scenic Public Loos in OZ.
If you don't see a kangaroo or emu, then don't bother buying a lottery ticket because you're obviously the world's unluckiest person!
What do you find special about this place?
The more you look, the more you'll find at Innes National Park – the highlights can be seen in a day if you're short of time, but it's really best to stay for a few days in one of the park's seven campgrounds; Heritage Accommodation in the park's historic almost-ghost town Inneston; or in nearby town Marion Bay and explore it thoroughly.
Take one – or ALL – of the Park's seven walks; find a deserted beach and surf, swim or go fishing; discover the colonial and indigenous history; spot a shipwreck – and a lighthouse or two; see how many different wildflowers you can find; or just hang out and relax. And if you don't see a kangaroo or emu – with chicks in spring – then don't bother buying a lottery ticket because you're obviously the world's unluckiest person!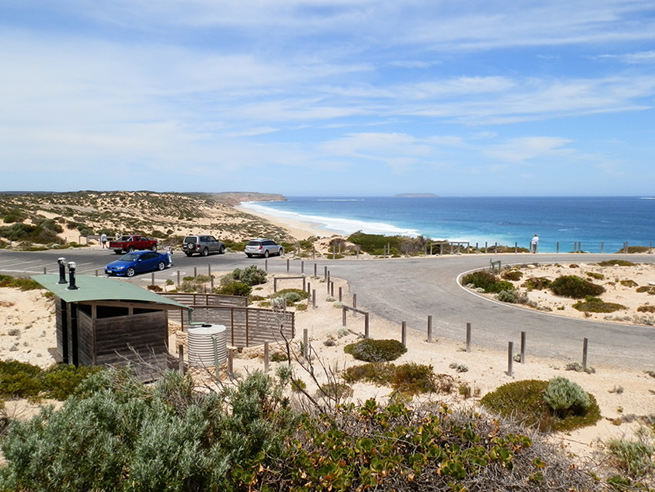 When is the best time of year to visit?
Any time! But attractions are different throughout the year, so decide when to go based on what you prefer doing! Summer (Dec to Feb) can be hot and includes the summer school holidays. It's great for beach and water based activities but there'll be a LOT more people around! Autumn (Mar to May) is good for walking as there's less wind and days are milder. It's still warm enough for swimming and the mullet are on!
Check the forecast in Winter (Jun to Aug) for fine weather – it'll be cold, but there'll be fewer people. Winter is also the best season for whale-watching – and salmon fishing, although they're around at other times as well. Spring (Sept to Nov) wildflowers are sensational, especially orchids, and Spring's the time for emu chicks too! There's something for everyone at any time of year elsewhere on the Yorke Peninsula too – use my handy guide and spend 7 days there!
Get a quote for campervan or 4WD hire in South Australia and visit Innes National Park.
Related Blog Posts