2 Week Sydney to Cairns Itinerary ~ Must see spots!
Sometimes it's good to get off the beaten track, however often a track is beaten for a reason. Such is the case with the Sydney to Cairns coastal drive.
A must do trip that takes you through big cities, the best beaches in the world, bushlands and rainforests. Where else in the world can you experience that kind of diversity in just two weeks?
There is so much to see and do on the East Coast that the trip North could easily turn into a 2 month extended holiday, however we have put together a two week itinerary to get you started.
Day 1 – Sydney to Nelson's Bay:
This pretty little town is situated on the southern coastline of Port Stephens. Acting as an ideal base to explore this remarkable region of New South Wales, Nelson Bay is home to an interesting variety of attractions, with spotting dolphins high up there on the list. Whale watching is another popular pastime here, ensuring that nature is a prominent aspect of this sleepy little town.
Day 2 – Nelson's Bay to Port Macquarie:
Port Macquarie, at the mouth of the Hastings River, is a Mecca for water sports. The Hastings and Camden Haven Valleys are scenic wonderlands. Port Macquarie is rich in history, too. St. Thomas Church is one of the oldest in Australia. Experience things like sailing, mini-golf, camel rides and scenic flights as well as shops, cafe's, restaurants, wine tastings and theme parks.
Day 3 – Port Macquarie to Coffs Harbour:
Beaches and warm weather bring tourists to this area. Make your way down to Jetty Beach to enjoy a lovely strip of coast that looks out to Mutton Bird Island and the Pacific Ocean beyond. From August to April the island is an important seabird colony crammed with the burrows of more than 10,000 pairs of mutton birds. If visiting from June to November keep an eye peeled for humpback whales as they pass offshore on their migrations to and from tropical calving grounds; cruises allow a close-up view.
Day 4 – Coffs Harbour to Byron Bay:
Byron Bay is one of New South Wales' premier tourist destinations. Byron Bay has a lot on offer, with superb beaches, a laid-back lifestyle, surrounding green hills and the rocky Cape Byron rising in the distance. Main Beach is a short walk from the town centre and is where all the action takes place. It is not unusual to see dolphins and their calves feeding not far from the shores or jumping through the breaking waves.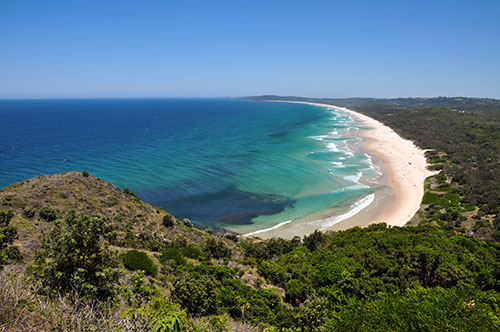 Day 5/6 – Byron Bay to Gold Coast:
Queensland's Gold Coast is one of the most visited tourist attractions in the state. Home to the fabulous Surfers Paradise and the known destination for ultimate family fun, the Gold Coast boasts the country's best theme parks, including Dreamworld, Movieworld, Seaworld and Wet'n'Wild. The Gold Coast offers something for everyone, whether it is a romantic coastal escape or the family holiday of a lifetime.
Day 7 – Gold Coast to Brisbane:
Brisbane is the capital of Queensland and Australia's fastest growing city. Located on the Brisbane River, between the Great Dividing Mountain Range and Moreton Bay, Brisbane is a lush city with spectacular gardens and wonderful beaches. Brisbane offers visitors a wealth of sightseeing and dining opportunities, and you will need at least a full day to explore cultural and historical landmarks in Brisbane, and perhaps do some shopping at one of the outlet centers in and around the city.
Day 8 – Brisbane to Sunshine Coast:
Just a short run up the highway from Brisbane is the Sunshine Coast, a strip of gorgeous beaches that borders a lush, green hinterland. Leave early so as to enjoy as much time as possible in this special part of Australia. Soak up the laid back vibe in pretty coastal suburbs such as Caloundra, Maroochydore and Noosa, and enjoy a surf in the renowned swell of the Sunny Coast. If you are all beached out, Sunshine Coast Hinterland is a magical rainforest escape, relax in the small cosy hinterland towns of Maleny, Montville and Flaxton.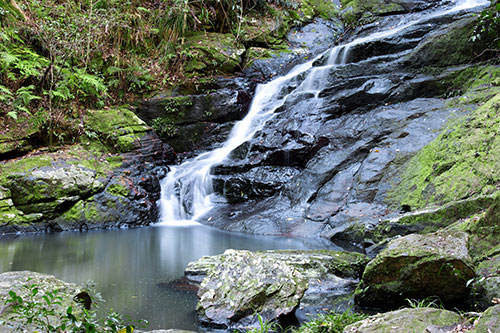 Day 9 – Sunshine Coast to Fraser Island:
Renowned as being the largest sand island in the world, Fraser Island is a popular tourist destination. Accessible by ferry from Hervey Bay, you need to know that only 4WD vehicles can access the island because of the sandy road conditions. There are a number of designated camping regions on the island, but remember to pay your fees to the Rangers. Enjoy touring through the thick and lush forests, and definitely pay a visit to the fresh water lakes in the centre of it. If you don't make it to the island and stay in Hervey Bay, then hire a tinny and enjoy some good fishing. If its whale season then you are in the right place- this is the whale watching capital of Australia!
Day 10 – Fraser Island to Rockhampton:
If you do make it to Fraser Island you will need to spend a couple of days there to fully appreciate it. Once you are back on the mainland then its off north once again to your next stop, Rockhampton. 'Rocky' is the capital of beef farming in Australia, so you are bound to enjoy a good steak here. They often hold rodeos in town, which are good fun to watch. The town sits on the banks of the Fitzroy River, which is very popular amongst fishermen for the large populations of Barramundi that inhabit it.
Day 11/12 – Rockhampton to Airlie Beach:
This is the longest stretch of your drive, and you will notice the scenery beginning to get more tropical as you proceed. If you don't want to do the 5 1/2 hour drive, Mackay is a good stopping point. Airlie Beach is a couple of hours north of Mackay, take the sign posted right turn at Proserpine. Known as the gateway to the Whitsunday islands, Airlie is a popular tourist town especially among the younger generation of travellers. It has a buzzing nightlife and a wide range of activities, and is a good base from which to pursue aquatic activities such as snorkelling, sailing and scuba diving. The Great Barrier Reef is also accessible from here.
Day 13 – Airlie Beach to Townsville:
Leaving Airlie, retrace your steps to Proserpine and continue north once more to Townsville. This friendly town boasts some beautiful beaches and a newly refurbished esplanade, but undoubtedly the chief attraction is Magnetic Island. Easily reached by a short ferry ride this tropical island boasts numerous beaches, secluded bays and walking trails. There are a number of places to stay and its well worth a look.
Day 14 – Townsville to Cairns:
This last stretch towards Cairns takes you through some very tropical landscapes. If you want a diversion then turn off at Tully and visit Mission Beach, a lush tropical hideaway where the jungle encroaches right onto the beachfront. To continue up to Cairns get back onto the A1 and head north past Innisfail where you will see fields of bananas. Cairns is a busy tourist town, a thriving centre where you can organise trips out to the Great Barrier Reef; north to the Daintree Rainforest and Cape Tribulation; inland to Kuranda and the Atherton Tablelands or simply around the Cairns beaches and coastline. Whatever your chosen pursuit, you are likely to find it here!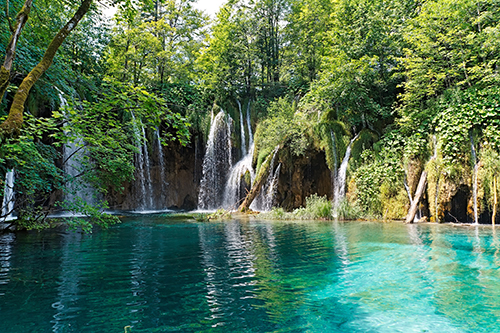 With so much to see and do it's no wonder that many campers take their time and can easily turn this two week trip into a 2 month adventure.