14 Unforgettable Road Trips from Sydney
Australia, a land of rugged coastlines, vast deserts, lush rainforests, and vibrant cities, offers a plethora of captivating destinations on a road trip from Sydney. If you're in Sydney or planning a visit, pack your bags, fuel up your campervan, and hit the road to embark on unforgettable journeys that will introduce you to the country's breathtaking beauty and rich culture. Here are 14 Sydney road trips that you should drive now!
1. Grand Pacific Drive to Jervis Bay
190 km road trip from Sydney
Set out on a short road trip from Sydney on this coastal escapade as you follow the Grand Pacific Drive from Sydney to the pristine shores of Jervis Bay. This 190-kilometre road trip unveils a stunning array of landscapes, from picturesque coastal towns to awe-inspiring cliffs and bridges. Don't miss the chance to bask on the impossibly white sands of Jervis Bay, known for having some of the world's whitest beaches. Immerse yourself in aquatic adventures, from sailing to kayaking, or explore the diverse marine life at Jervis Bay Marine Park. Along the way, you'll encounter captivating stops like Royal National Park and the charming town of Wollongong, making this road trip an unforgettable coastal journey.
2. Coffs Harbour
535 km road trip from Sydney
Venture north from Sydney to the captivating coastal city of Coffs Harbour, a road trip spanning approximately 535 kilometres. With its pristine beaches, lush hinterlands, and a mix of outdoor adventures, Coffs Harbour is a paradise for nature enthusiasts. Explore the iconic Big Banana Fun Park, where you can enjoy a range of attractions from water slides to ice skating. For a taste of the wild, hike through Dorrigo National Park's enchanting rainforests or witness the captivating beauty of Dangar Falls near Dorrigo. With its perfect blend of coastal charm and natural wonders, Coffs Harbour offers a road trip filled with excitement and relaxation.
3. Blue Mountains National Park
80 km road trip from Sydney
A short drive west of Sydney, covering around 80 kilometres, leads you to the mesmerizing Blue Mountains National Park. It is one of the most popular places to visit near Sydney by car or campervan. As you traverse the Great Western Highway, you'll be immersed in the ethereal blue haze that gives the park its name. Explore the iconic Three Sisters rock formations in Katoomba and ride the thrilling Scenic World cableway for panoramic views of the vast wilderness. With countless hiking trails, charming towns like Leura, and breathtaking lookouts like Wentworth Falls, the Blue Mountains road trip is a journey into the heart of Australia's natural wonders.
4. Newcastle
162 km road trip from Sydney
Heading north from Sydney, discover the vibrant city of Newcastle, renowned for its stunning beaches, rich history, and cultural charm. Soak up the sun at Nobbys Beach, take a stroll along the historic Newcastle Memorial Walk, and explore the bustling arts scene at the Newcastle Civic Theatre. If you're a history buff, a tour of Fort Scratchley offers a glimpse into the city's past. Immerse yourself in the local culture, savor the coastal cuisine, and enjoy the relaxed atmosphere that defines this charming city.
5. Lightning Ridge
765 km road trip from Sydney
Embark on an outback adventure from Sydney to the enigmatic town of Lightning Ridge. Known as the "Black Opal Capital of the World," Lightning Ridge offers a unique glimpse into the world of opal mining. Delve into the subterranean wonders with a tour of the Big Opal Underground Mine or explore the eccentric Amigo's Castle turned art gallery. Don't miss the chance to witness the stunning beauty of the rusty old church and explore the intriguing history of this outback gem. If you have the time for this epic trip, it's worth making it at least a 7 day road trip from Sydney, and including stops in Bathurst and Dubbo along the way. It's aqually as great to do as a one way road trip Sydney to Brisbane, which would make it around 2090 kilometres.
6. Melbourne
870 km road trip from Sydney
Travel south to the vibrant metropolis of Melbourne, a city that seamlessly blends culture, art, and history. From the iconic Flinders Street Station to the lush Royal Botanic Gardens, Melbourne is a haven for urban explorers. Dive into the city's culinary scene at Queen Victoria Market, discover the rich history at the Old Melbourne Gaol, and ascend to the heights of the SkyPoint Observation Deck for sweeping city views. With its diverse neighborhoods, captivating street art, and world-class entertainment, Melbourne offers a road trip filled with endless possibilities.
7. Canberra
286 km road trip from Sydney
For a cultural and historical adventure, journey approximately 286 kilometres on a road trip from Sydney to Canberra, the nation's capital. Explore the impressive Australian Parliament House, discover the stories of sacrifice at the Australian War Memorial, and take a stroll through the National Arboretum. Unwind in the serene Lennox Gardens by Lake Burley Griffin and explore the unique attractions of the Parliamentary Triangle. With its blend of art, politics, and natural beauty, Canberra provides a road trip that showcases the essence of Australia's identity.
8. Darling River Drive: from Walgett to Wentworth
1077 km road trip from Sydney
Experience the heart of the Australian Outback with a road trip along the Darling River. Journey through remote towns, witness ancient landscapes, and immerse yourself in the rugged beauty of the region. From the historic town of Walgett to the meeting point of the Darling and Murray Rivers in Wentworth, this road trip offers a deep dive into the country's wild and untamed landscapes.
9. Central Tablelands
343 km road trip from Sydney
Venture north of Canberra to explore the charming towns and wineries of the Central Tablelands, a road trip spanning approximately 194 to 343 kilometres from Sydney. From the quaint town of Gundaroo to the twin towns of Harden and Murrumbateman, this road trip introduces you to a world of vineyards, rolling hills, and picturesque vistas. Indulge in wine tasting experiences, soak in the natural beauty of the region, and discover the unique blend of small-town charm and rural landscapes.
10. Moss Vale Road
130 km road trip from Sydney
Escape the city's hustle and bustle with a short road trip from Sydney to the tranquil town of Moss Vale. Follow the scenic Moss Vale Road through Kangaroo Valley, cross the historic Hampden Bridge, and uncover the town's rich history. Explore the KV Pioneer Village, journey through Barrengary Nature Reserve, and immerse yourself in the unique ambiance of Moss Vale's streets. With its heritage sites, charming atmosphere, and surrounding natural beauty, Moss Vale Road offers a peaceful retreat just a stone's throw from Sydney.
11. Byron Bay
772 km road trip from Sydney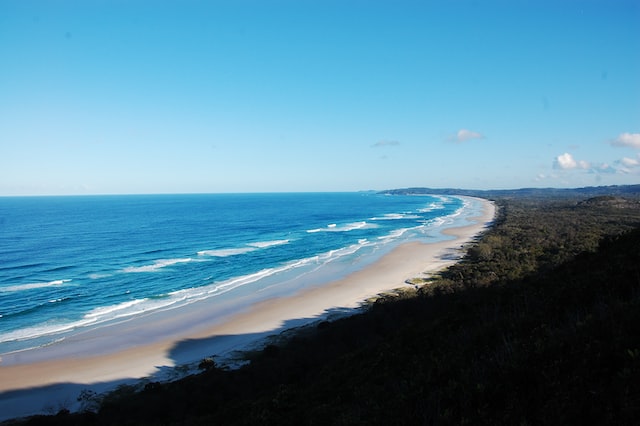 Embark on a coastal journey north to the bohemian paradise of Byron Bay, covering approximately 772 kilometres. Famous for its laid-back lifestyle, stunning beaches, and vibrant arts scene, Byron Bay is a long road trip from Sydney, and a destination that captures the essence of Australian coastal living. Relax on the pristine sands, surf the iconic waves, and hike up to Cape Byron Lighthouse for panoramic ocean views. Explore the bustling markets, indulge in farm-to-table dining, and immerse yourself in the creative energy that defines Byron Bay.
12. Murray River
848 km road trip from Sydney
Journey along the meandering course of the iconic Murray River, Australia's longest river, spanning approximately 558 to 848 kilometres from Sydney. From Echuca's charming paddle steamers to the serene beauty of Mildura, this is one of the best road trips from Sydney, and allows you to explore the history, culture, and natural landscapes shaped by the river's flow. Experience river cruises, water sports, and the beauty of riverfront towns as you traverse the path of the mighty Murray. To see more, visit Murray River Tourism Website, where you will find information on Houseboats, Accommodation, Attractions, Boating, Events & Murray River Photos.
13. Jindabyne and Kosciuszko National Park
452 km road trip from Sydney
Head south to the Snowy Mountains and discover the alpine wonderland of Jindabyne and Kosciuszko National Park, a road trip covering approximately 452 kilometres. In the winter months, experience thrilling snow sports and activities at Perisher or Thredbo. During the summer, hike to the summit of Mount Kosciuszko, the highest peak in Australia, and marvel at the breathtaking vistas. With its pristine lakes, rugged mountains, and outdoor adventures, this road trip is a must for nature enthusiasts and thrill-seekers alike.
14. Nightcap National Park and Dorrigo National Park
766 km road trip from Sydney
Venture into the lush rainforests of Nightcap National Park and Dorrigo National Park, spanning approximately 766 to 854 kilometres, for a road trip from Sydney that immerses you in the enchanting beauty of Australia's flora and fauna. Wander through ancient Gondwana rainforests, discover stunning waterfalls like Minyon Falls, and spot unique wildlife in their natural habitats. The serenity of the rainforest, the symphony of birdsong, and the tranquil ambiance make this one of the best road trips from Sydney.
Australia's diverse landscapes beckon travelers to embark on road trips that promise unforgettable adventures and memories. For some further information on how to book accommodation and cheap flights in Australia, but also learn about the amazing, interesting, funny or bizarre aspects that most of the more serious travel websites don't tell you, visit Amazing Australia.
Whether you're exploring coastal paradises, delving into the outback's mysteries, or immersing yourself in cultural gems, each road trip from Sydney offers a unique glimpse into the heart and soul of this extraordinary country. So, rev up your engines, open your road maps, and start the drive now!