Cruisin Discovery

Vehicle Class :
Premium Economy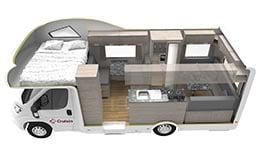 Vehicle Details
Vehicle
Vehicle Age
Under 3 Years
Air Conditioning
Yes
Seating
Maximum Passengers
6
Seatbelts
2 in Drivers Cabin, 4 in Main Cabin
Child Restraints
Total Child Restraints Permitted - 2


Rear Facing

Maximum 2 (Supply own)


Forward Facing

Maximum 2


Booster

Maximum 2
Internal Access
Yes
Living Area
Awning
Yes
Crockery Cutlery Pots Pans Supplied
Yes
Fire Extinguisher
Yes
Fridge & Freezer
Yes - 110 Litres
Fly Screens
Yes
Gas Cooker
3 Burner Gas Stove
Gas Bottles
1 x 9 Litre
Hot & Cold Water Supply
Yes
Linen Supplied
Yes
Microwave
Yes (requires 240v)
Reverse Cycle Air Conditioner
Yes
Sink
Yes
Sleeping Configuration
1 x Cabover (2.13m x 1.53m)
1 x Rear Double Bed (2.13m x 1.37m)
1 x Dinette Double (1.95m x 1.20m)
Shower and Toilet
Yes
Entertainment
Audio System
Radio and CD player
TV - DVD
TV & DVD
Vehicle Specifications
Dual Battery
Yes
Engine Specifications
4 Cylinder Turbo Diesel
Fuel
Diesel - 80 Litre Tank
Fuel Consumption
14 Litres per 100km
Make of Vehicle
VW
Power Equipment
Power Steering
Power Supply
12v / 240v
Transmission
Automatic
Water Tank Capacity
100 litres
Waste Water Tank Capacity
81 litres
Vehicle Dimensions
Height
3.30m
Length
7.30m
Width
2.30m
Interior
2.10m
Disclaimer:
Actual vehicles may vary according to year of manufacture & availablility, but vehicle will be suitable for required number of people and have similar specifications to those on this website. Specific specifications cannot be requested. Measurements are approximate, not guaranteed and specifications may change at any time without any prior notice.
36 Reviews for Cruisin Discovery
karen frost
07 August 2017
The addition of wheel chicks would be helpful to level the vehicle when parked. Having all external fittings ie water power and grey water on the same side of vehicle would be handy because most of the outlets in parks are on the one side. If mattress in loft area fitted back area would be more comfortable.
There was a problem with the fuel cap which we didnt notice till we got to our destination. an saw diesel had spilt out ..other then that vehicle was fine.
Russell Nicholls
27 May 2017
We got upgraded to delux, really nice Campervan A few minor maintenance issues, the staff at Cruising were quite helpful fixing a few things at pickup. Other things were too minor to bother us
I thought the setup and quality if this van was excellent. I do think the pots and pans that were offered was the only thing I could fault... considering it was a 6 berth it really should have provided at least one large pot to cook in. It only had 2 small-medium sized ones.
Gaetan Lassous
03 April 2017
Some parts like hot water were not OK, and it was a little bit old, but we appreciate it.
Camper van was excellent, few little niggles with flickering light and window that would not open and camp chair collapsing. The van could do with aircon in the passenger area when traveling as it gets very hot and uncomfortable, this is a design problem not a hire problem but something that should be addressed by the manufacturer.
Sylvia Van Kuyk
18 March 2017
A few small things wrong with the camper, door into the living area was always hard to close or at times open, the gray water tap kept falling off, it had been previously repaired and it was only held on with 2 little screws, so my son constantly had to screw it back in and the seats for the passengers in the living area were always sliding out and making the ride uncomfortable for the passengers, but we fixed it with some nonslip mats, which we left in place for the next customers, we told cruisin about these issues. Overall it was good and drove well
Ashley Goldsbrough
01 March 2017
I thoroughly enjoyed how well the campervan handled on the road as well as using the campervan for our trip. I would definitely recomend this to people I know.
Geoff Robbins
14 February 2017
Excellent vehicle and well prepared.
Phil and Cathy Anderson
04 February 2017
The vehicle was comfortable and clean. It had good storage in overhead lockers. It took a few hours to get used to driving it as it was so much heavier than a car. It would be good to have a reversing beep to warn people behind the campervan as it was difficult to see the area from the driving seat.
scott ashdown
06 January 2017
Pros Vehicle great to drive Good cooking facilities Heaps of cupboard space Large fridge Slept 3 comfortably Cons Shower screen loose and cheap Hot water inconsistent Bluetooth on head unit playing up
Jackie Williamson
05 January 2017
Van was excellent lovely and new, spacious and lots of room for storage.
Michelle Freshwater
31 December 2016
Vehicle was very comfortable and easily accommodated the four in our family.
Tarla Steffens
24 December 2016
Van was clean and never skipped a beat!
Eric Warrant
05 November 2016
Beautifully appointed large 6-berth Fiat. Ours was quite new, so it was really wonderful. Clean, bright and reliable. We had the trip of a lifetime is lovely camper van.
KATHRYN LANSDOWN
01 October 2016
Very roomy and well equipped
Katrina Langdown
10 September 2016
Was comfortable had everything we needed. Would recommend to use. Easy to drive.
Rob Jarvis
29 August 2016
Vehicle was a pleasure to drive
Virtually brand new van. The cruising discovery did exactly what we wanted. The beds and bedding were comfortable. The van was easy to drive and roomy to live in with 3 adults and a large child.
Andrew Farmer
12 August 2016
Overall happy with the vehicle, however the fridge ,dvd player and anex was broken or not working correctly, witch ment we had to carry eskys, and purchase a portable bvb player. For the cost and age of the vehical was very dissapointing, Hope they are fixed for the next customers
Colin Ingleton
01 August 2016
The first vehicle had quite a few problems with it and Cruisin changed it over and provided us with the next model up. This was a great camper van and served us well.
Caroline Berlingeri
23 July 2016
Overall experience was a 10out of 10we loved it . The only thing I could fault would be that there needs to be better explanation of how everything works before you drive off to save any confusion on setting up .
Kate Hanson
30 April 2016
Absolutely fantastic vehicle. The vehicle was reasonably new so was in very good condition & used very little diesel. It was equipped with everything we needed. Only thing we could fault was tv aerial was not strong enough to pick up signal anywhere except Launceston!
Nathalie Bailly
09 February 2016
Very well appointed vehicle, linen luxurious. Could do with a coffee plunger. A few screws were loose (drawer, hanger in bathroom), TV was nor easy to watch due to glare from "ground floor", visibility not great for passenger in back but other than that all was great and really fun. We loved the experience and would do it again.
Nicole Spillane
17 January 2016
Was a great way to travel! Beds were comfortable bedding was clean and warm. Pleasantly surprised how quiet it was when we slept in VERY busy camp grounds.
SAMANTHA JEFFERSON
11 January 2016
Good size for our grown up kids and us to share for the week. Night mode air con was perfect for sleeping. Great kitchen and mostly well appointed with inventory for the trip. Cabin door was very noisy and there was a screw missing from the door plate that made the rattle worse. Would have been nice to have a microwave container in the inventory supplied.
Philip Ranger
09 January 2016
The vehicle was a little older than I had expected and had quite a few minor damages on it internally and externally but overall it was fine.
michael effer
28 November 2015
very happy good to drive and quite comfortable to live in on a short term basis of course
Peter Boocock
14 November 2015
We ended up with the Cruisin Discovery campervan, and had a great trip. The campervan was perfect for us - plenty of room, it ran well and we were able to use all its features. 2 Thumbs up!
Steve Row
28 October 2015
Although we had a couple of minor issues such as television not working (which we paid extra for) and a couple of broken knobs, we were more than delighted with our vehicle.
Gordon Furze
17 October 2015
surprisingly for such a large vehicle it was very easy to drive & I look forward to hiring another for the next holiday.
Gail Langfield
17 October 2015
This vehicle was amazing! It was so easy and comfortable to drive, everything in it was modern, clean and like brand new. There was nothing I could fault, I would definetly recommend it to anyone thinking about renting a large 6 berth.
Kyle Kisebach
10 October 2015
Microwave did not work. Awning screw was missing so the support arm would fall off without being held. Otherwise well appiinted and very nice.
Susan Briggs
14 September 2015
Excellent vehicle, relatively new and therefore modern. Bedding was fresh and provided in sealed bags. It was a pleasure to travel in and a pleasure to have this vehicle accommodating 5 adults.
Eric Klements
07 September 2015
Motorhome was fantastic and in great condition however could have been a little better stocked with some essentials. - There was insufficient chemical for the toilet so we had to go searching for a shop to buy more.This was not easy to find especially in the more remote areas.