Cruisin Adventurer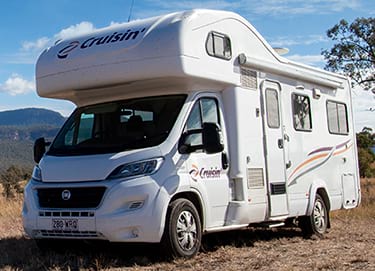 Floorplans
Vehicle Details
Vehicle Specifications
Vehicle Age
Under 4 Years
Vehicle Make
Toyota
Transmission
5-Speed Manual
Engine
2.7L Unleaded
Fuel Tank Capacity
75L
Fuel Consumption (approx.)
14L / 100km
Power Steering
Yes
Anti-lock Braking System (ABS)
-
Airbags
-
Power Supply
12v / 240v
Air Conditioning (Driver's Cab / Main Cab)
Yes 240v
Seatbelts (Driver's Cab / Main Cab)
2 / 0
Child Seat Facility
No
Booster Seat Facility
Yes
Living Area
Sleeping Capacity
2
Sleeping Configuration
1 x Cabover Bed (1.90 x 1.50m)
Bedding & Linen
Yes
Internal Walk-Through to Driver's Cab
No
Fly Screens
Yes
Bathroom
Shower
Yes
Toilet
Yes
Kitchen
Microwave
Yes (240v)
Gas Stove
Yes
Gas Bottle
1 x 4kg
Fridge / Freezer
Yes
Cooking Utensils
Yes
Crockery & Cutlery
Yes
Sink
Yes
Other
Hot / Cold Pressurised Water
Yes
Fresh Water Tank
80L
Waste Water Tank
80L
Additional Equipment
-
Awning
Yes
Entertainment
CD Player / Radio
Yes
AUX / MP3 Input
No
USB Input
No
LCD Screen
Yes
DVD Player
Yes
Vehicle Dimensions
Length
5.80m
Width
2.20m
Height
3.50m
Interior Height
1.90m
Disclaimer:
Actual vehicles may vary according to year of manufacture & availablility, but vehicle will be suitable for required number of people and have similar specifications to those on this website. Specific specifications cannot be requested. Measurements are approximate, not guaranteed and specifications may change at any time without any prior notice.
14 Reviews for Cruisin Adventurer
Samra Clark
30 December 2017
Best first time experience in Campervan! Will definitely do it again. Thank you! Fridge kept disconnecting from gas but we notified the sales assistant when we dropped it off.
Doreen Johnston
11 November 2017
great to drive. would of preferred a reversing camera in it.would hire this sort again.
Andrew Greager
09 October 2017
A great little camper for 2. Easy to drive, A wee bit heavy on petrol, but ok.
Garry Lonergan
03 June 2017
I have rented a lot of campers over last 8 years and for my wife and myself this has been the best for our needs that we have had. A two month hire was a pleasure (We are still married) and Cruisin was definitely the very best company we have dealt with and customer service was brilliant after being cut off by floods at one point. Definitely get this camper again and definitely with this company. Thanks.
Joe Capogreco
29 April 2017
We where upgraded to the Crusin range due our selected vehicle not being available. It was great. The vehicle Vehicle was easy to drive and park. It was roomy and I think next trip we will be booking this style.
Ruth Cusack
18 March 2017
Most things worked well. 2 of the ceiling light fittings did not work. I felt it looked a little dated inside but it was clean and in good order. We had a couple of issues during our trip. A side cover flew off (hot water service?) and the mirrors were loose and vibrating so we had that partly fixed at a Discovery service centre.
Malcolm Withers
03 January 2017
A diesel my have been better given the topography. A 2.7 litre petrol motor struggled
Coralie Hockey
28 December 2016
For a couple travelling for 10 days in Australia, this vehicle had all we needed. The bed over the cab was surprisingly spacious. The kitchen was basic, but fully equipped. The vehicle was easy to drive and manoeuvre. For a lower end of the budget camper van, we have no complaints.
Tracey Hunter
15 October 2016
Just a few little things we found that would of made it even better, curtains that fit the Windows, some where to hang wet towels after a shower, a toilet roll holder, and a hook at the door for the car keys after driving, we had the best holiday, just having the freedom to go at our own pace no checking in and out of accomodation just get in and drive, leaving us more time to see the sights.
Denise McMillan
09 July 2016
Generally good. Easy to drive and park, well equipped. Toilet and shower very convenient.
Narelle Ekanayake
28 May 2016
I had an Adventurer - the vehicle was very clean and had everything I needed for my trip. I was a bit sceptical about any camper van bed being that comfortable but was very pleasantly surprised to find that it was great! I slept like a baby!
Kimberley Nawell
03 May 2016
Performed adequately
Great small vehicle ideal for two people. Good on fuel and a great support for accommodation if needed. We stayed in hotels however had the benefit of comfort knowing that we had excellent accommodation with the van if needed.
paul griffiths
01 May 2016
Our vehicle was only reasonably new so everything worked well and we found the bed over the cab was brilliant, the only problem I had was with the fuel cap, I found this difficult to get off as I tried to open it as you would expect by turning it clockwise, it would not move, after losing patience I finally took the water cap off and worked out it had to be opened by going the other way, there should be a sign advising new drivers of this, on the cap.