AutoRent Hertz Hitop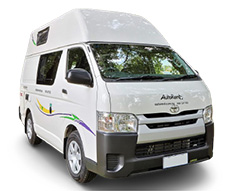 Vehicle Details
Vehicle
Vehicle Age
Average 3 Years
Air Conditioning
Yes (in Drivers Cabin)
Seating
Maximum Passengers
Best Suited 2 Adults 2 Children or 3 Adults
Seatbelts
2 in Drivers Cabin 2 in Rear
Child Restraints
Total Child Restraints Permitted - 2


Rear Facing

Maximum 1


Forward Facing

Maximum 1


Booster

Maximum 2
Internal Access
No
Living Area
Crockery Cutlery Pots Pans Supplied
Yes
Fire Extinguisher
Yes
Fridge & Freezer
Yes
Fly Screens
Yes
Gas Cooker
Yes
Gas Bottles
1 x 3kg
Hot & Cold Water Supply
Cold Only
Linen Supplied
No, can be hired
Microwave
Yes (requires 240v)
Reverse Cycle Air Conditioner
No, (Heater Supplied requires 240v)
Sink
Yes
Sleeping Configuration
1 x Double Bed (1.85m x 1.44m)
1 x Roof Double Bed (1.90m x 1.44) max weight 80kg
Shower and Toilet
No
Awning
Can Be Hired
Entertainment
Audio System
Radio & CD player
TV - DVD
TV Only
Vehicle Specifications
Dual Battery
Yes
Engine Specifications
2.4 Litre Petrol
Fuel
Petrol, 70 Litre Fuel Capacity
Fuel Consumption
Approximately 11 litres per 100 km
Make of Vehicle
Toyota
Power Equipment
Power Steering
Power Supply
12v | 240v & Solar
Transmission
Automatic
Water Tank Capacity
50 Litres
Waste Water Tank Capacity
n/a
Vehicle Dimensions
Height
2.55m
Length
5.00m
Width
1.69m
Headroom
1.84m
Disclaimer:
Actual vehicles may vary according to year of manufacture & availablility, but vehicle will be suitable for required number of people and have similar specifications to those on this website. Specific specifications cannot be requested. Measurements are approximate, not guaranteed and specifications may change at any time without any prior notice.
22 Reviews for AutoRent Hertz Hitop
Nick Skelton
16 December 2017
We enjoyed the campervan but found a few things that need attention. The handle for pulling the rear door shut needs to be in the centre for easier closing so you are not stretching too far to one side. We also prefered the old layout with the cooking area by the sliding door and the extra outside fold-down table, and the bed/seating area at the rear. The cenrtral section of timber with the legs screwed on was a pain to put away as there is no easy place to stash it. The sliding cupboard doors under the cooking area did not slide open all the time easily and weree often prevented by the ill-fitting lower drawer,
Saskia Meier
30 October 2017
All though the vehical was small it was perfect for us and herttz did not forget a thing everything was included and even more then what i was expecting i was so happy with the whole experiance, thanks you so much
Caleb Cunningham
03 October 2017
Nice tidy set up. Everything worked and was well maintained.
Viola Morris
05 June 2017
Clean, easy. Great Van
Great vehicle, the tv was too hard to figure out then needed a code.
Hert Hitop Campervan was awesome. It had low mileage of 48000 only. Everything in perfect condition. Lots of crockery of every kind and complete bedding. It was our first experience in life to hire a campervan so we were excited but worried aswell. We read some reviews prior hiring that companies create problems while returning the campervan. But it was so easy and quick to hire, received detailed brief by Hertz rep while taking over vehicle and most amazing thing, while returning vehicle, Hertz Rep just asked one question that is ANY DAMAGE? We said no as we had good accident free trip, and that was the only question asked. Would highly recommend Hertz to everyone.
Ros and Ann Hurst
28 January 2017
Almost brand new so all equipment was in good order . Easy to drive . Only problem was the tight upper sleeping area .. only suitable for small adult or child .. no ladder for upstairs access so difficult to access . Found we had to stay at B&bs for a few nights comfort .otherwise great .. ideal for a couple rather than 2 singles
natalie melville
21 January 2017
Loved that it was new, the kitchen accessories had been really well thought out and everything was ready to go. Made for a very easy trip for us.
Nella McGee
15 January 2017
Configuration of kitchen/cupboards in galley style in such a small van does not work. The mattress up top is too thin for an adult.
Louise James
20 December 2016
Vehicle was very clean and obviously serviced well. The instruction video received prior to pick up date was very helpful and informative.
Erica Miller
13 December 2016
Easy and comfortable to drive. Feeling of freedom and independence and great to be part of nature when you pull up and set up camp. Wildlife literally at your door. Uncomfortable to sleep in when it was hot but cozy when it was cold. TV great but usually no reception however most places I stayed had free DVDs so that was good for the quiet evenings. Probably 3 weeks was 1 week too long.
Harriet Messenger
14 November 2016
Our caravan was brand new, perfectly clean and extremely comfortable. We loved it, and the bed was more comfortable than our bed at home! It was also equipped with a TV and DVD player which was a nice surprise. The vehicle handled very well, however it did not drive well in wind. The hard pop up top acted as a sail, and very unluckily we had 2 days of near gale force winds. Those days were very tense and slow, driving at 60km/h in a 100km zone. Despite this, when the wind was down it was an easy caravan to drive and for our first vanning holiday it was definitely the right choice.
Robbie Oglethorpe
06 November 2016
We picked up our camper an and had an adventure.. How amazing it was to have the freedom to meander through Tassie, find a beautiful place to stop and camp next to a beach or a lake and just totally relax... Comfort and beauty
Katina Lennie
16 October 2016
Some of the corners of the cabinetry is sharp, when getting out of the bed this grazed my legs.
Ian Holthouse
20 August 2016
Excellent vehicle perfect set up no issues will definitely book again
Chinmoy Mukerjee
30 April 2016
Near new. Drove effortlessly. Very comfortable.
Bree Anne Jeffrey
10 April 2016
Great vehicle, very reliable and good on the road. Comfy bed down the bottom although would not recommend the top bunk if you are chlostrophobic haha. Great kitchen supplies! We had everything we needed. All round good for the price you pay. Very happy with it :) thank you again
Daun Crozier
03 April 2016
I and my travelling companion Jennie found the vehicle excellent ! .. It was clean, all cutlery, bedding towels, cooking pots and pans, all good quality and suited our requirements easily .. Van was like new in condition, was safe comfortable, easy to drive and had everything we needed .. We was easy On the Road Again !
Leandra Davidson
27 March 2016
Small van easier to drive on narrow roads. Comfortable, very clean and well equipped.
Shelley Anderson
06 March 2016
Really need to add outside cooking facilities. Ie: small gas webber or BBq as great to sleep in but not so flash to cook in,(especially when weather is nice) would make rating higher if could cook outside.. Needs a bolt to hold in utensil draw. Otherwise nice vehicle to drive, good on fuel, price was satisfactory. Good linen and towels
Steven Wright
29 February 2016
The vehicle was great, easy to drive and park, fuel efficient, and really easy to set up when we found somewhere to stay for the night.
Trent Gardiner
07 February 2016
Great little ute, camper was comfy, no problems at all